It's Throwback Thursday! Today I'm resharing my review of A Defense of Honor by Kristi Ann Hunter, which first appeared at International Christian Fiction Writers. The Christmas Heirloom novella collection started with a Haven Manor story, and the second official book in the series releases next week.
The Honourable Katherine FitzGilbert (I'm sorry, but the title is British, so it should be Honourable not Honorable) is now known as Mama Kit. She shepherds a group of not-quite-orphans in a forgotten house in the country. Her anonymity and remote seclusion are her weapons, the way she protects those in her charge.
Graham, Viscount Wharton, is bored … at least, until he notices a beautiful lady in green at a ball, a lady he then rescues before she disappears. He has no idea how to find her again, as he doesn't even know her name. So he's more than a little surprised to come across her in an out-of-the-way almost-abandoned manor house near the small market town of Marlborough.
As first meetings go, Kit and Graham's first meeting is definitely memorable. So is their second.
But it's when they meet in Marlborough that things get interesting. Graham is trying to locate his best friend's missing sister, and he realises Kit must know where she is. But Kit has spent the last twelve years protecting women and hiding their illegitimate children, and she's not about to stop for some random Lord who finds her secret home. No matter how attractive he is.
And the end … I'm not going to give spoilers, but I am already looking forward to the next book in the series.
A Defense of Honor is the first full-length novel in Kristi Ann Hunter's new Haven Manor series, but it's not the first book. There is a prequel novella, A Search for Refuge, which is available as a free ebook. It's not necessary to read A Search for Refuge first, although I did, and I can assure you it will provide needed backstory to A Defense of Honor. It's also an excellent story on its own.
Recommended for all Regency romance fans, because it's close to perfect. And Kristi Ann Hunter is a wonderful witty writer.
Thanks to Bethany House and NetGalley for providing a free ebook for review.
About Kristi Ann Hunter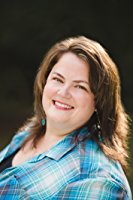 Kristi is the RITA® award winning author of Regency romance novels from a Christian worldview. Her titles include A Noble Masquerade, An Elegant Façade, and An Uncommon Courtship. Beyond writing, she is also speaker, teaching classes in writing as well as Biblical and spiritual topics. She has spoken to writers' groups, schools, and young women's groups at churches.
​When she is not writing or interacting with her readers, Kristi spends time with her family and her church. A graduate of Georgia Tech with a computer science degree, she can also be found fiddling with her computer in her free time. A born lover of stories she is also an avid reader. From very young she dreamed of sharing her own stories with others and praises God daily that she gets to live that dream today.
You can find Kristi Ann Hunter online at:
Website | Facebook | Instagram | Pinterest | Twitter
About A Defense of Honor
When Katherine "Kit" FitzGilbert turned her back on London society more than a decade ago, she determined never to set foot in a ballroom again. But when business takes her to London and she's forced to run for her life, she stumbles upon not only a glamorous ballroom but also Graham, Lord Wharton. What should have been a chance encounter becomes much more as Graham embarks on a search for his friend's missing sister and is convinced Kit knows more about the girl than she's telling.
After meeting Graham, Kit finds herself wishing things could have been different for the first time in her life, but what she wants can't matter. Long ago, she dedicated herself to helping women escape the same scorn that drove her from London and raising the innocent children caught in the crossfire. And as much as she desperately wishes to tell Graham everything, revealing the truth isn't worth putting him and everyone she loves in danger.
You can find A Defense of Honor online at:
Amazon | ChristianBook | Goodreads | Koorong
You can read the introduction to A Defense of Honor below: