It's First Line Friday! That means it's time to pick up the nearest book and quote the first line. Today I'm sharing from The King's Mercy by Lori Benton: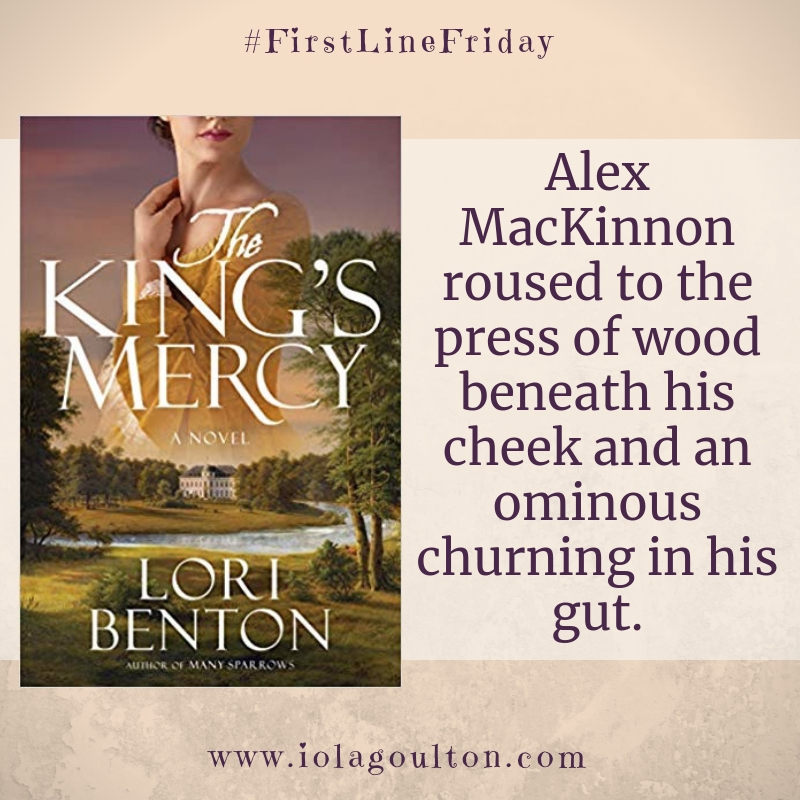 I haven't yet read anything by Lori Benton but I've read many glowing reviews of her earlier books, so I'm expecting great things.
What's the book nearest you, and what's the first line?
About The King's Mercy:
When captured rebel Scotsman Alex MacKinnon is granted the king's mercy–exile to the Colony of North Carolina–he's indentured to Englishman Edmund Carey as a blacksmith. Against his will Alex is drawn into the struggles of Carey's slaves–and those of his stepdaughter, Joanna Carey.
A mistress with a servant's heart, Joanna is expected to wed her father's overseer, Phineas Reeves, but finds herself drawn instead to the new blacksmith. As their unlikely relationship deepens, successive tragedies strike the Careys. When blame falls unfairly upon Alex he flees to the distant mountains where he encounters Reverend Pauling, itinerate preacher and friend of the Careys, now a prisoner of the Cherokees.
Haunted by his abandoning of Joanna, Alex tries to settle into life with the Cherokees, until circumstances thwart yet another attempt to forge his freedom and he's faced with the choice that's long hounded him: continue down his rebellious path or embrace the faith of a man like Pauling, whose freedom in Christ no man can steal. But the price of such mercy is total surrender, and perhaps Alex's very life.
You can find The King's Mercy online at:
Amazon US | Amazon AU |ChristianBook | Goodreads
Click the button to check out what my fabulous fellow FirstLineFriday bloggers are sharing today:
You can then click the link which will take you to the master page of all this week's #FirstLineFriday posts.
And you can click here to check out my previous FirstLineFriday posts.
Share your first line in the comments, and happy reading!