A Worthy Pursuit is larger than life in more ways than one.
Miss Charlotte Atherton is happy in her role as headmistress of Sullivan's Academy for Exceptional Youths in Austin, Texas—at least until Dr Sullivan announces the school is closing. The students will be returned to their families … including Lily Dorchester, an orphan for whom Charlotte is the legal guardian. So she does what any sensible 28-year-old woman would to in 1891: she kidnaps Lily and two other parentless students and takes them to a remote farm where she hopes they won't be found.
Stone Hammond is the best retriever in Texas—he always gets his man. Or, in this case, his girl. He's been hired to find little Lily Dorchester, who was kidnapped by her teacher. Only when he finds her, he finds the teacher claims she is Lily's legal guardian, and she has the papers to prove it. Awkward. The two settle on an uneasy truce while Stone looks into Charlotte's claim, and he finds the whole experience unexpected: the relationship Charlotte has with the children, the unique talents each child has, and his reaction to Charlotte. Especially his reaction to Charlotte.
I've enjoyed every single Karen Witemeyer book I've read, and this one is no exception.
The only problem with her books is that she doesn't write them fast enough – it's usually the best part of a year between releases. Her plots and characters are both excellent, and she manages to inject a lot of humour into her novels without ever going over-the-top or descending into cliché or cringe.
Despite the light humour, this was also a story of two wounded adults doing their best to follow God and protect the children in their charge from similar wounds. While the Christian aspects of the novel weren't overpowering, they were powerful.
Overall, an excellent novel. Recommended for fans of historical fiction from authors such as Jen Turano and Carol Cox.
Thanks to Bethany House and NetGalley for providing a free ebook for review.
About Karen Witemeyer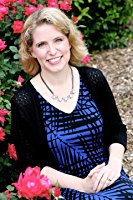 For those who love to smile as they read, bestselling author Karen Witemeyer offers warm-hearted historical romances with a flair of humor, feisty heroines, and swoon-worthy Texas heroes. A transplant from California, Karen came to Texas for college, met a cowboy disguised as a computer nerd, married him, and never left the state that had become home.
Winner of the HOLT Medallion, ACFW Carol Award, Inspirational Reader's Choice Award, National Reader's Choice Award, and a finalist for both the RITA and Christy Awards, Karen is a firm believer in the power of happy endings. . . and ice cream. She also loves to reward her readers. Every month she gives away two inspirational historical novels to someone from her newsletter list and offers substantial bonus content on her website.
Find Karen Witemeyer online at:
About More Than Meets the Eye
Many consider Evangeline Hamilton cursed. Orphaned at a young age and possessing a pair of mismatched eyes–one bright blue, the other dark brown–Eva has fought to find her way in a world that constantly rejects her. Yet the support of even one person can help overcome the world's judgments, and Eva has two–Seth and Zach, two former orphans she now counts as brothers.
Seeking justice against the man who stole his birthright and destroyed his family, Logan Fowler arrives in 1880s Pecan Gap, Texas, to confront Zach Hamilton, the hardened criminal responsible for his father's death. Only instead of finding a solitary ruthless gambler, he discovers a man not much older than himself with an unusual family. When Zach's sister, Evangeline, insists on dousing Logan with sunshine every time their paths cross, Logan finds his quest completely derailed. Who is truly responsible for his lost legacy, and will restoring the past satisfy if it means forfeiting a future with Evangeline?
Find More than Meets the Eye online at:
Amazon | ChristianBook | Goodreads | Kobo | Koorong
Read the introduction to More than Meets the Eye below: