The White City is Grace Hitchcock's debut novel. It is also (I think) the first novel in Barbour Publishing's new True Colors series, fictional accounts of some of America's most infamous crimes. The White City is set around the 1893 Chicago World's Fair, and the actions of the man considered America's first serial killer, Doctor H. H. Holmes. Holmes owned a hotel not far from the fair.
A hotel filled with secret rooms that was later dubbed "Murder Castle".
Winnifred Wylde is a wonderful heroine. She's clever and funny. She loves reading fiction, especially the thrilling romance novels by Percival Valentine. But she has an unfortunate habit of seeing crimes wherever she looks—possibly the result of being the daughter of a police inspector, but possibly the result of reading too many thrilling novels featuring the noble hero saving the heroine from the clutches of the evildoer.
Winnifred is convinced she saw a man kidnapping a woman from the fair at gunpoint.
But even her police inspector father can't arrest a man simply on his daughter's say-so. He needs proof. So Winnie decides to get proof, by taking an undercover job as a secretary with the man she suspects is responsible for the kidnapping. Her father appoints Detective Jude Thorpe to watch over her and help in her investigation.
I will admit I was initially a little dubious about reading a novel with such a setting.
It had the potential to be far too gruesome for my taste. However, it was not. The humour and light-hearted style were the perfect balance for the less savoury elements of the plot, especially as it became obvious that Winnie was right and her boss was up to no good.
There was also the romance aspect. Jude is attracted to Winnie and thinks she might return his regard, but her father has made it clear that Winnie is not to marry a policeman. Her aunt is trying to set her up with a Mr. Covington, who is a perfectly nice gentleman but who doesn't make her heart race. As an aside, I'm not usually a fan of the other man/other woman plot, but it worked perfectly in The White City.
Overall, The White City is an excellent historical romantic suspense novel.
The mix of fact and fiction reminded me of Elizabeth Camden's historical fiction, while the light-hearted tone was more reminiscent of Jen Turano or Karen Witemeyer. Recommended.
Thanks to Barbour Publishing and NetGalley for providing a free ebook for review.
About Grace Hitchcock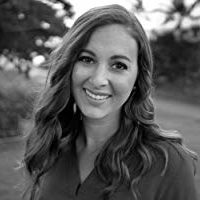 Grace Hitchcock is the author of The White City and The Gray Chamber from Barbour Publishing. She has written multiple novellas in The Second Chance Brides, The Southern Belle Brides, and the Thimbles and Threads collections with Barbour Publishing. She holds a Masters in Creative Writing and a Bachelor of Arts in English with a minor in History. Grace lives in southern Louisiana with her husband, Dakota, and son.
Find Grace Hitchcock online at:
Website | Facebook | Instagram | Pinterest | Twitter
About The White City
Mysterious Disappearances Taint the Chicago World's Fair
Step into True Colors — a new series of Historical Stories of Romance and American Crime
While attending the Chicago World's Fair in 1893, Winnifred Wylde believes she witnessed a woman being kidnapped. She tries to convince her father, an inspector with the Chicago police, to look into reports of mysterious disappearances around the White City. Inspector Wylde tries to dismiss her claims as exaggeration of an overactive imagination, but he eventually concedes to letting her go undercover as secretary to the man in question—if she takes her pistol for protection and Jude Thorpe, a policeman, for bodyguard.
Will she be able to expose H. H. Holmes's illicit activity, or will Winnifred become his next victim?
Find The White City online at:
Amazon | ChristianBook | Goodreads | Koorong
Read the introduction to The White City below: