I loved True to You, the first book in this series, and I've been waiting two long years to read Britt and Zander's story. Zander was the secondary character who most caught my attention in True to You, so I wanted to know more about him and his unrequited love for Britt.
But when I started the story, I was in that strange place of desperately wanting to read it, but also not wanting to read it … because once I've finished it, then the series will be over. And that brought a major reader dilemma: did I want to read it slowly and savour the experience, or did I want to read it quickly to find out what happens.
Okay, I have no self-control when it comes to Becky Wade, so I read it quickly.
On the surface, Sweet on You is a sweet (!) romance about a chocolatier and the novelist who has loved her for close on half his life … and she's never noticed. Underneath, it's a story about overcoming the lies we believe about who we are, about finding ourselves in God, and about becoming the people he meant us to be.
Britt's problem is that she is independent—too independent, in that she's never learned to depend on God. I suspect this is a problem for a lot of modern women, who have been raised to be independent rather than depending on fathers or husbands. That's not necessarily a bad thing, but it does mean that we forget we're supposed to trust and depend on God.
Zander's problem is the same, but from a different angle.
He's been praying Britt would fall in love with him for years, yet God hasn't answered that prayer (I'm sure we all have prayers we've prayed for years that God hasn't answered yet). Zander has allowed that to separate him from God:
"He hadn't worshipped from a place of gratitude. He'd worshipped from a place of duty."
I suspect that's also true of many people. And it's these internal issues that make Sweet on You such an excellent example of Christian fiction. Let's face it, I've known for two years that Britt was eventually going to fall for Zander. I've been looking forward to it, because I love the friends-to-something-more plot. And that played out more or less how every friends-to-more romance plays out.
There was also a suspense plot, which I enjoyed because I've always loved romantic suspense. That element of the was less predictable (good) and meant there were external events driving Britt and Zander together. This is the aspect of the plot which kept me reading … but it's not the element I'm thinking about now I've finished.
What makes Sweet on You different is the Christian element, the way it allows us to explore some of the lies of the modern world, and to better understand God's solutions.
I think I'm going to have to read it again to understand this even better. This time I'll read slowly.
Thanks to Bethany House and NetGalley for providing a free ebook for review.
About Becky Wade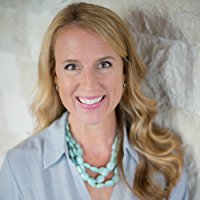 Becky is the Carol and Christy award winning author of heartwarming, humorous, and swoon-worthy contemporary inspirational romances.
During her childhood in California, Becky frequently produced homemade plays starring her sisters, friends, and cousins. These plays almost always featured a heroine, a prince, and a love story with a happy ending. She's been a fan of all things romantic ever since.
These days, you'll find Becky in Dallas, Texas failing to keep up with her housework, trying her best in yoga class, carting her three kids around town, watching TV with her Cavalier spaniel on her lap, hunched over her computer writing, or eating chocolate.
You can find Becky Wade online at:
Website | Facebook | Instagram | Pinterest | Twitter
About Sweet on You
Britt Bradford and Zander Ford have been the best of friends since they met thirteen years ago. Unbeknown to Britt, Zander has been in love with her for just as long.
Independent and adventurous Britt channels her talent into creating chocolates at her hometown shop. Zander is a bestselling author who's spent the past 18 months traveling the world. He's achieved a great deal but still lacks the only thing that ever truly mattered to him–Britt's heart.
When Zander's uncle dies of mysterious causes, he returns to Merryweather, Washington, to investigate, and Britt is immediately there to help. Although this throws them into close proximity, both understand that an attempt at romance could jeopardize their once-in-a-lifetime friendship. But while Britt is determined to resist any change in their relationship, Zander finds it increasingly difficult to keep his feelings hidden.
As they work together to uncover his uncle's tangled past, will the truth of what lies between them also, finally, come to light?
You can find Sweet on You online at:
Amazon US | Amazon AU | ChristianBook | Goodreads | Koorong