Today I'd like to welcome author Janet Bly, to share about her new release, Beneath a Camperdown Elm. Welcome, Janet! We'll start off with some quick questions so we get to know you a little better.
What is your favourite fruit?
Cherries and grapes make an easy and healthy to eat snack when I'm reading or at the computer. And bananas provide potassium when my legs cramp. But I sure love fresh peaches or nectarines, when I can get them, in my morning cereal.
I love cherries. I just wish they were in season for longer.
Which is your favourite season?
The first days of Spring after the long, snowy winter, and the mud disappears. And any day in the Fall.
Where is your favourite place?
In my cozy bed, after a long day of difficult or satisfying work.
What is your favourite Bible verse?
The life verse I discovered from the early days of receiving Christ as my Lord & Savior is Ephesians 2:10 …
For we are God's workmanship, created in Christ Jesus to do good works, which God prepared in advance for us to do.
That nudged me many times over the years to constantly be looking for the works, big or small, that God created  for me to accomplish.
What's something funny or quirky that not many people know about you?
My late husband, Stephen Bly, built a full-sized, false-front town with fire pit called Broken Arrow Crossing in our yard and I often entertain for family, friends, and church events there.
A full-size fake town? And Janet even sent photos: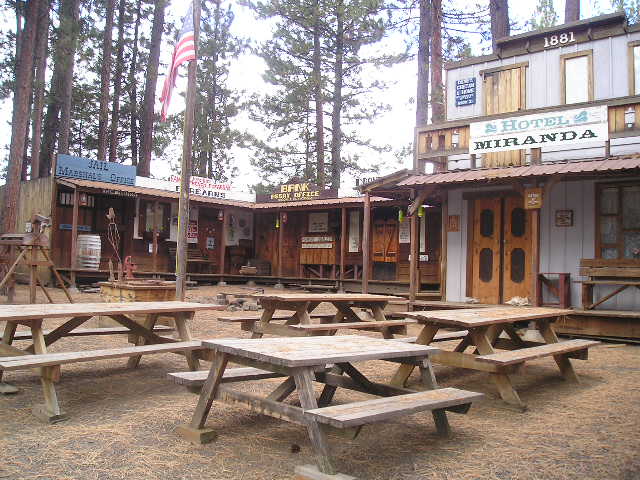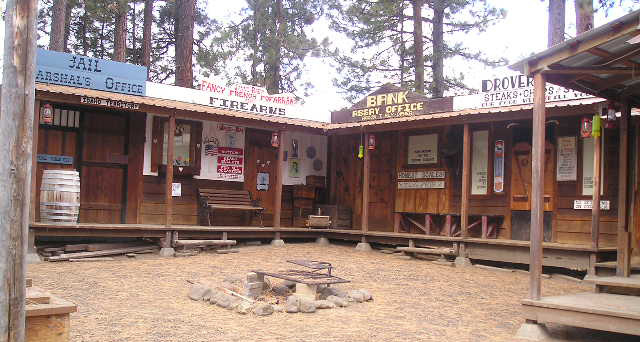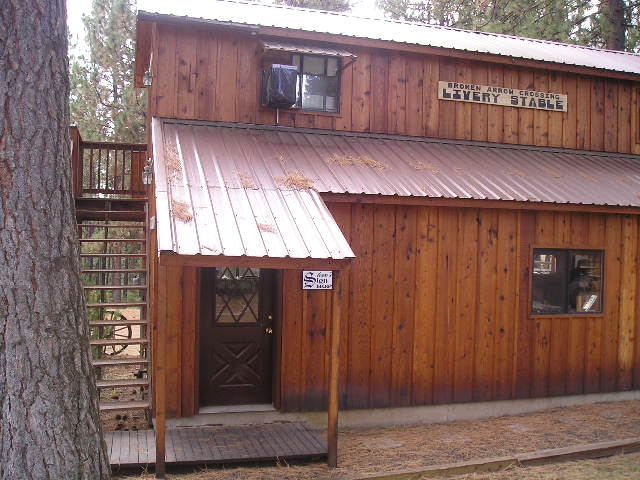 Isn't that cool?
Now, let's talk about your book, Beneath a Camperdown Elm.
Reba's scary stalker is locked up in jail. She finally snatches a rancher fiancé. Her runaway mother returns home. Reba has everything she ever wanted. But Grandma Pearl has disappeared! Is Reba about to lose it all?
In August 1991, at Road's End, Idaho, three generations of women travel separate journeys of the heart.
Reba Mae Cahill brims with joy. Her life's perfect. She's finally bringing her prodigal mother, Hanna Jo, home to Road's End from a Reno mental institute. With them is Jace McKane, her fiancé, who promises to help fight the unjust lawsuit that threatens the family ranch. He wants a new start, away from his unscrupulous father and all his drama.
Just as Reba's getting Jace trained to become her rancher husband, she discovers Grandma Pearl betrayed her once again, in a way that also harms her mother. Reba believes she's lost everything—her career, her identity, her lifelong pursuit, and her main reason for marrying Jace.
When Jace returns to California to bail out his father and pursue Quigley, a psychotic killer, who escaped from prison, she wonders if he'll ever return to Road's End?
Then Hanna Jo claims she sees alleged wild horses in the mountain valleys as she learns her son and ex-husband's fishing boat sank in an Alaskan sea. Can Reba keep her from flipping out for good?
As Grandma Pearl struggles with guilt, health issues, and finding purpose for the rest of her life, will the new church building project provide an answer?
Meanwhile, twenty-one-year-old Scottish twin tourists, Archie and Wynda MacKenzie, mesmerize the town with their trick biking skills and charming accents. Reba's not sure they're all they claim to be. And someone harasses Reba with letters and phone calls. What are they really after?
Will any of the answers be found in the mysteries of an old Scottish elm?
What inspired the plot of Beneath a Camperdown Elm?
My late husband and I were privileged to travel to Europe and especially loved Scotland. In Dundee, Scotland, I learned of the existence of a mutant, twisted Camperdown Elm, snaking low across the ground, first discovered at Camperdown House in the early 1800s. When we returned home, I found out that the nearby University of Idaho campus had a special planting by cuttings from the original of about twenty of the wild-headed trees.  Their gnarliness and rarity fascinated me. I determined to write a story around a theme of the trees and their connection to and, perhaps, part of a curse on generations of an American family.
What a great inspiration!
Who is your favourite character in this book, and why?
I'm afraid I'll have to admit that three different characters equally interest me—grandaughter, Reba Mae Cahill; mother, Hanna Jo Cahill; and grandmother Pearl Cahill. Living vicariously through each of their stories, I aspire to replicate their strong traits and recognize flaws of my own. They each represent in a shadowed, though not specific way, various seasons of my life.
Is there a particular theme or message in Beneath a Camperdown Elm?
No matter what choices the people in our families before us have made, and how that has affected our personal circumstances, we are free to start again, by our own thought through decisions. We can forge our own story. Also, all things can work together for good when God is in it.
Amen!
Beneath a Camperdown Elm is the third book in a series. What are the other books? Do readers have to start with the first book?
Beneath a Camperdown Elm can be read alone. However, most readers tell me they want to know more of the backstory of The Trails of Reba Cahill and do read Books 1 & 2 afterward, or start with them, for all the other tales leading into the finale. Each of the books happen in the summer of 1991.
Wind in the Wires, Book 1
Twenty-five-year-old cowgirl Reba Cahill searches for love in a rancher husband and healing from the hurts of her runaway mother, who abandoned Reba as a child.  Finding a love interest is quite a challenge, in the small town of Road's End, Idaho, population 400, the setting of the Cahill Ranch, owned by Grandma Pearl.
Meanwhile, a ninety-year-old man in town decides to take a journey to the Nevada desert in his Model T car, to seek justice in solving two cold case murders. He talks Reba into going with him, after giving her a very expensive gold and turquoise squash blossom necklace, formerly owned by his niece who just died. During the trip, Reba and the old man uncover an eerie story of lies and betrayal. Will the truth be too hard for either of them to bear?
Down Squash Blossom Road, Book 2
Cowgirl Reba Cahill's schedule is full. Save the family ranch. Free her mom from a mental institute. Take another road trip. Solve a murder and a kidnapping. Plus, she must evade a scary stalker. Can she also squeeze in romance?
What do you find is the easiest part of the writing and publishing process? What's the hardest?
The actual writing is the easiest  part, even though it can take many months or even years to accomplish, with much strain on the brain at times. However, the most difficult challenge is all the necessity of marketing involved. It does no good to write something, if no one knows about it.
Somehow the writer must spark that elusive word-of-mouth dynamic that incites a satisfied reader to tell others. But most writers dread this part of the process, as he or she tends to be an introvert and enjoys most the solitary comfort zone of creating. Not always fun to put yourself 'out there' and do promotion.
What impact does your faith have on your writing?
Every writer has a world view of some sort. Mine comes from my Christian belief. And as I write, I try very hard not to be preachy, but to show the struggles of characters in coming to terms with God's part in their lives. Some believe in Him. Others don't. But He is definitely a Being to be reckoned with.
I think an increasing number of Christian readers want to read books with real-life struggles, so keep it up.
What's your favourite fiction genre, and why?
Mysteries of all kinds, historical and contemporary, cozy and thriller. Love the challenge of guessing who did what, digging through the intricate plotting, and the motive behind it all. In The Trails of Reba Cahill Series, I stay with the western genre of my late husband, Stephen Bly, but add mystery and a touch of romance. Actually, I have to admit that by Book 3, the story is more romance than mystery!
Well, I love a good romance!
What book (or books) are you currently reading?
The Name of the Rose by Umberto Eco. This is a tedious read in many ways, but also charming at the same time. Set in 1327 about Franciscans in a wealthy Italian abbey suspected of heresy. Brother William of Baskerville arrives to investigate and his mission is overshadowed by seven bizarre deaths. Brother William turns detective. Never would have picked this novel on my own, but was recommended by members of an online fiction book club. Have enjoyed entering a world so unlike my own or any of our own genre stories.
Thank you, Janet! It's been great to meet you and learn more about Beneath a Camperdown Elm.
You can find Janet Bly online at:
Website | Facebook | Instagram
Twitter | Pinterest | Goodreads | LinkedIn
Readers, what question would you like to ask Janet? Let us know in the comments!