Uncharted Destiny is the seventh book in Keely Brooke Keith's Uncharted series.
It starts pretty much where the previous book left off. On that basis, you probably need to read Uncharted Journey before reading Uncharted Destiny (better still, read the whole series—start with The Land Uncharted, or Aboard Providence).
Bailey Colburn has arrived in the Land—the strange island in the South Atlantic Ocean, hidden from modern navigational devices (think of Wonder Woman's home island of Themyscira, but with men and women and all using 1860s technology). She thought she was the only survivor from her vessel, but now she's found that Professor Tim Van Buskirk, her mentor and father figure, also survived. But he's trapped on the other side of the island.
Bailey wants to mount an immediate rescue mission, but it's not so simple.
Tim's radio description of his surroundings suggests he's in the unmapped portion of the island, and it will take at least a week to get there. Fortunately, the Colburn family are willing to help, because it's not a journey she can take alone.
While the other novels in this series have largely been romance novels in a unique setting, Uncharted Destiny has more of an adventure feel—think Indiana Jones without the archeology, and with natural enemies. It's a dangerous journey, and the danger doesn't end when they find Tim …
Uncharted Destiny is another excellent story in this series, and I'm looking forward to reading the next instalment.
Thanks to the author for providing a free ebook for review.
About Keely Brooke Keith
Keely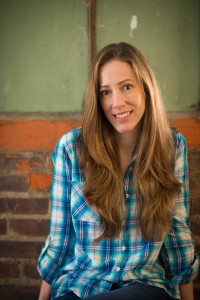 Brooke Keith writes inspirational frontier-style fiction with a slight Sci-Fi twist, including The Land Uncharted (Shelf Unbound Notable Romance 2015) and Aboard Providence (2017 INSPY Awards Longlist). Keely also creates resources for writers such as The Writer's Book Launch Guide and The Writer's Character Journal.
Born in St. Joseph, Missouri, Keely grew up in a family that frequently relocated. By graduation, she lived in 8 states and attended 14 schools.  When she isn't writing, Keely enjoys playing bass guitar, preparing homeschool lessons, and collecting antique textbooks. Keely, her husband, and their daughter live on a hilltop south of Nashville, Tennessee.
Find Keely Brooke Keith online at:
About Uncharted Destiny
Bailey Colburn is safe in the Land, but her father figure, Professor Tim, never made it to Good Springs. When Bailey discovers Tim is lost in the Land's dangerous mountain terrain and out of his life-saving medication, she sets out to rescue him. Even with the help of intriguing native Revel Roberts, Bailey faces an impossible journey to save Tim. The mountains are shrouded in dark folklore and full of deadly surprises.
Revel Roberts never stays in one place too long. No matter where he travels in the Land, he avoids the Inn at Falls Creek, his boyhood home and the business he will inherit. But when fearless newcomer Bailey Colburn needs Revel's help to find her friend, he joins the mission and is forced to return to the place he'd rather forget.
Bailey and Revel's friendship strengthens as they need each other in ways neither of them imagined. But nothing can prepare them for what awaits in the Land's treacherous mountains.
Uncharted Destiny, the seventh installment in the beloved Uncharted series, weaves faith and adventure while delivering long-awaited answers in this inspirational story of life in a hidden land.
Find Uncharted Destiny online at:
Read the introduction to Uncharted Destiny below: