Natalie Groves is about to give the presentation she hopes will save her job when she gets a phone call. There's a medical emergency. Her first thought is for her father, who's got cancer. But when she gets to the scene she finds Jem, her childhood sweetheart and ex-fiance.
With a baby.
Now unemployed, Natalie unwillingly accepts a job as Olly's part-time nanny on the condition she can also take an unpaid internship with a new Christian ministry, Wildfire. It's the opportunity she's been waiting for. And the handsome youth pastor in charge has nothing to do with that …
Jem has his own issues. He left town after an argument with his father, and he's still not ready to mend those bridges. And he's got his niece, sixteen-year-old Lily, who helps Natalie with Olly, and who moves in following an argument with her own father.
Love and Other Mistakes is a bit of a genre mash-up.
There's Natalie and Jem's second-chance romance. There's the faith element—Natalie's internship is with a Christian ministry, and Lily's parents are both in full-time paid ministry. Then there is Lily's story, which is more Young Adult. The overall tone is humorous, with a definite chick-lit vibe.
I found the first quarter packed in a lot of information, and the writing sometimes got in the way of the story. But then I totally got into the story, and finished it in two sittings.
Overall, Love and Other Mistakes is a funny yet poignant lesson in broken relationships that's occasionally frustrating (Steph, I'm talking about you). It's also a lesson in mending relationships, and in the power of honesty, love, and God to heal what's broken.
Thanks to Thomas Nelson and NetGalley for providing a free ebook for review.
About Jessica Kate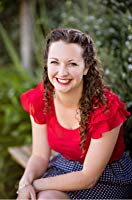 Australian author Jessica Kate writes inspirational romances that are fun, sassy and real. Jess is a screenwriting groupie, co-host of the StoryNerds vlog and podcasts, and her favorite place to be – apart from Mum and Dad's back deck – is a theme park.
She's traveled North America and Australia, and samples her favorite pasta wherever she goes – but the best (so far) is still the place around the corner from her corporate day job as a training developer.
She loves watching sit-coms with her housemates and being a leader in a new church plant.
You can find Jessica Kate online at:
Website | Facebook | Instagram | Podcast | Twitter
About Love and Other Mistakes
Jessica Kate's hilarious, romantic debut novel proves that some mistakes—including love—are begging to be made again and again.
Natalie Groves once had big dreams. But soon after her fiancé, Jeremy Walters, inexplicably broke off their engagement and left town, her father was diagnosed with cancer. Now tasked with keeping her family afloat, Natalie's grand plans have evaporated . . . and God feels very far away.
Fast-forward seven years, and Jeremy is back in Charlottesville with an infant son and years of regrets. When his niece, Lili, lands on his doorstep in need of a place to stay, Jeremy needs help—and fast.
An internship opening finally presents Natalie a chance at her dream job, but she needs a second income to work around it—and the only offer available is Jeremy's. They could be the solutions to one another's problems, provided they don't kill each other in the process. When they join forces, sparks fly. But they both know there's a thin line between love and hate . . . and that love will turn out to be the best decision—or the biggest mistake—of all.
Find Love and Other Mistakes online at:
Amazon | ChristianBook | Goodreads | Kobo | Koorong