On Magnolia Lane is the third book in Denise Hunter's Blue Ridge Romance series. Or maybe the fourth—Sweetbriar Cottage isn't officially part of the series, but is set in the same small town and features several of the same characters. Yes, the novels can be read as standalone stories, but this is definitely Daisy and Jack's story and you don't have to read the earlier books to enjoy it. But I know readers who prefer to read a series in order will want to start with Sweetbriar Cottage (which is still my favourite).
I found the beginning of On Magnolia Lane was somewhat slow.
It took me a while to get into On Magnolia Lane. This could be because I had high expectations (thanks, Sweetbriar Cottage). But I didn't need to worry, despite the could-be-predictable set-up. This story was as strong as any in the series even though a couple of plot points ran the risk of being cliché.
Daisy runs the family florist business and helps out at Hope House, a home for teenage girls. When Hope House loses its roof in a storm, Daisy is given the task of organising a fundraiser for the house. She can't do it alone … but help comes from unexpected places.
Pastor Jack has been secretly in love with Daisy for two years.
He thought it was a secret, but his friends know and they sign him up for the online dating app Daisy is using. The two begin a friendship, except she doesn't know TJ is Jack. So when will Jack tell her the truth?
There were a couple of areas I was less certain about. Jack was a pastor and Daisy a member of his congregation. She's apparently been going to Jack for counselling for a couple of years (although I never was exactly clear what she was being counselled about, and whether it was appropriate for a single male pastor to be counselling a single female congregation member without supervision, even if the office door was always open).
But the novel wasn't really a "Christian" novel in the way, say, Sweetbriar Cottage was. Several scenes took place in the church, but the focus seemed to be more on the outward appearance of faith than inward belief.
That contrast was actually a feature of the book, as it came through in the subplot about Daisy's father—the town mayor who insisted his daughter always act the part. Daisy finds something that challenges her perception of her father, and has to reconcile her memories of him with the lies. Because she doesn't like lies. Jack helps her work through her issues, which is kind of ironic … And, of course, we're always waiting for the big reveal, where Daisy finds out what we've known all along. How will she react?
Overall, this was a contemporary romance with solid characters, plenty of layers, and unexpected depths. Recommended for contemporary Christian romance fans.
Thanks to Thomas Nelson and NetGalley for providing a free ebook for review.
About Denise Hunter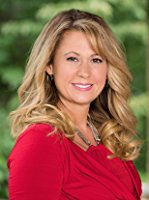 Denise Hunter is the internationally published bestselling author of more than 30 books, including "The Convenient Groom" and "A December Bride" which have been made into Hallmark movies. She has appeared on the The 700 club and won awards such as The Holt Medallion Award, The Carol Award, The Reader's Choice Award, The Foreword Book of the Year Award, and is a RITA finalist.
Denise writes heartwarming, small-town love stories. Her readers enjoy the vicarious thrill of falling in love and the promise of a happily-ever-after sigh as they savor the final pages of her books.
In 1996, inspired by the death of her grandfather, Denise began her first book, writing while her children napped. Two years later it was published, and she's been writing ever since. Her husband says he inspires all her romantic stories, but Denise insists a good imagination helps too!
When Denise isn't orchestrating love lives on the written page, she enjoys traveling with her family, drinking good coffee, and playing drums. Denise makes her home in Indiana where she and her husband raised three boys and are currently enjoying an empty nest.
Find Denise Hunter online at:
About On Magnolia Lane
Falling in love with Daisy was easy for Jack. But finding the courage to tell her becomes problematic when his secret feelings lead to even bigger complications.
After two years of counseling sessions with Daisy Pendleton, Pastor Jack McReady has earned a permanent spot in her life as a spiritual leader—and nothing more. Jack would never risk losing her trust by exposing the depths of his heart, but he's hopelessly in love with her.
Daisy loves her southern small-town life and her job at her family-run flower shop, but she doesn't have the thing she longs for most: someone to share it with. Her recent foray into online dating has been a disaster—until she meets TJ.
Jack could kill his friend Noah for using his initials and some indistinct photos to set up a profile on the dating app Daisy is using. But when he's finally afforded the opportunity to show her a different side of himself, he's sucked into the plan before he has time for second thoughts.
Online, Daisy shares some of her greatest fears with TJ, but in person, Jack and Daisy are spending more time together. When a devastating family secret surfaces, Daisy knows that only her trusted friend and counselor can bring her comfort. Jack wants nothing more than to be both men for Daisy, but revealing his secret will prove to be the ultimate test of Daisy's grace.
Find On Magnolia Lane online at:
Amazon | ChristianBook | Goodreads | Koorong