If you're looking for a fun contemporary Christian romance novel to read, Finding Evergreen is not for you (but you'll love Jennifer Rodewald's recent Valentine's Day novella, The Cupcake Dilemma).
Instead, reading Finding Evergreen is like watching your two best friends destroy their marriage.
It's rough. It's tough. It's nasty.
Finding Evergreen is not an easy read, and there were times I wanted to run away and pretend it wasn't happening. Actually, I did. I usually read one novel at a time, over a couple of days. Finding Evergreen took me a couple of weeks to read, because I kept putting it down to read something a little more lighthearted.
But I kept coming back to Finding Evergreen. It was worth the effort, no matter how often I wanted to bang Brandi and Ethan's stupid heads together. Or force them to have an adult conversation. Anything rather than watching them both trying to justify themselves as being in the right.
There was plenty of blame to go around as two people with issues brought those issues into a marriage. There was also the added complication of So-J, their foster daughter, with even more issues, and the difficulty of trying to get through newlywed life with a sassy eleven-year-old in the house.
It wasn't just me who found the characters difficult. In her author's note at the end, Jennifer Rodewald says:
"Brandi Thompson is the most unlikeable character I've ever written—and I did it on purpose."
Jennifer shares what Brandi and Ethan discover: it is not easy to love well, and there are no easy answers. But we must remember that nothing separates us from the love of God, not even our misbeliefs about His love.
Finding Evergreen is the third book in the Grace Revealed series, following Blue Columbine and Red Rose Bouquet. It can be read as a standalone novel (I haven't read the other two yet), but I'm sure reading the books in order would give Finding Evergreen added depth.
Recommended for those who aren't looking for likeable characters and easy reads.
Thanks to the author for providing a free ebook for review.
About Jennifer Rodewald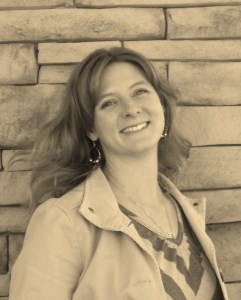 Jennifer Rodewald is passionate about the Word of God and the powerful vehicle of story. Four kids and her own personal superman make her home in southwestern Nebraska delightfully chaotic.
Born in Colorado, she experienced both the seclusion of rugged mountain living and the busy streets of a Denver suburb during her growing up years. Somewhere in the middle of college, she married a Husker and found her way back to the quiet lifestyle of a rural area, which suits just fine.
Blessed with a robust curiosity, Jen loves to research. Whether she's investigating the history of a given area, the biography of a Christian icon, or how nature declares the glory of God, her daily goal is to learn something new. Aiming to live with boundless enthusiasm, her creed is vision, pursuit, and excellence.
Jen lives and writes in a lovely speck of a town where she watches with amazement while her children grow up way too fast, gardens, and marvels at God's mighty hand in everyday life.
You can find Jennifer Rodewald online at:
About Finding Evergreen
He thought he'd found the thrill of his life; she, the romance she hadn't dared to hope for. Falling in love had been easy. Being married? Totally different story.
Married within a year of meeting, Ethan and Brandi add a foster daughter to their newly established family. Their story is enchanting—inspiring. Except when the fairytale fails. The stresses of unmet expectations and wounds from their pasts knife into their marriage, severing what they believed would be forever.
Hope for a broken marriage. Healing for their wounded spirits. It would take both to find evergreen. Are they brave enough to try?
You can find Finding Evergreen online at:
You can read the introduction to Finding Evergreen below: