It's Throwback Thursday! Today I'm resharing my review of Death at Thornburn Hall, which originally appeared at International Christian Fiction Writers.
Drew and Madeline Fathering are back. They are visiting Drew's distant relatives, Lord and Lady Rainsby of Thornburn Hall, and planning to watch the Open at Muirfield, Edinburgh. They are not the only guests—there is also a married couple, and a Russian artiste seeking his muse.
Death at Thornburn Hall is the sixth book in the Drew Fathering series. Each book is a standalone murder mystery, which means you don't have to read the earlier books first (although there are some plot threads that trail though the series). It follows the pattern established in the first book, Rules of Murder.
Drew arrives somewhere (Thornburn Hall, in this instance).
There is a death (sometimes there is more than one).
Drew investigates.
The local police force don't appreciate Drew's efforts.
Drew solves the crime with help from Nick and Madeline.
It has almost has a Scooby-Doo feel, albeit in a different time and place, and without the inevitable, "and I would have gotten away with it, if it wasn't for you meddling kids." Yes, there is humour in here:
There is plenty of witty banter between Drew, a member of the British aristocracy,  Madeline, his American wife, and Nick Dennison, Drew's best friend and the son of the Fathering Hall butler (a friendship that continues to raise eyebrows).
And Carrie is back: Madeline's American best friend, who Nick would like to persuade to stay forever … However, Carrie is not stupid. She's realised the same thing the rest of us have realised:
Drew Fathering attracts murder. Murder attracts risk and danger.
But that's the fun! Well, that's the fun for me, as a reader. Carrie doesn't see it quite the same way …
The writing is excellent, as usual. There is a cast of characters ranging from mysterious to suspicious. Some things are not what they seem, and there are plenty of genuine clues scattered among the red herrings. The ending is satisfying on several levels (well, satisfying to the core characters. The murderer, as usual, is less than satisfied with being caught by Drew).
I love this series because it is so British. It reminds me of driving through the English countryside, of camping in Scotland under the shadow of Ben Nevis, of taking the train to Edinburgh and disembarking at Waverley Station.
The Drew Fathering mysteries are an echo of England in days gone by.
They remind me of childhood favourites such as The Famous Five, and Swallows and Amazons, and of Agatha Christie, Ngaio Marsh, Georgette Heyer, and other 1930's murder mystery writers.
But it's also an echo of the England I lived in … because I've visited many of the places Drew and Madeline visit—Winchester, Beaulieu, Edinburgh. The beauty of England is that it is old, and a modern visitor can see many of the same sights as Drew and Madeline see.
Death at Thornburn Hall by Julianna Deering is an enjoyable murder mystery that's a reminder of England in days gone by #ChristianFiction #MustRead
Click To Tweet
Thanks to Bethany House and NetGalley for providing a free ebook for review. You can find out more about Julianna Deering at her website, and
About Julianna Deering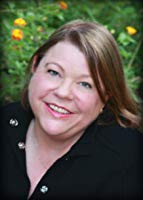 Julianna Deering (also writing as DeAnna Julie Dodson) has always been an avid reader and a lover of storytelling, whether on the page, the screen or the stage. This, along with her keen interest in history and her Christian faith, shows in her tales of love, forgiveness, and triumph over adversity. A fifth-generation Texan, she makes her home north of Dallas with three spoiled cats and, when not writing, spends her free time quilting, cross stitching and watching NHL hockey. Her series of Drew Farthering mysteries set in 1930s England debuted from Bethany House with Rules of Murder (2013).
Find Julianna Deering online at:
About Death at Thornburn Hall
The Fartherings' Scottish Holiday Takes a Dark Turn
Drew Farthering arrives in idyllic Scotland for the 1935 British Open at Muirfield hoping for a relaxing holiday, but he soon finds a mystery on his hands. Lord Rainsby, his host at Thorburn Hall, fears his business partner may be embezzling and asks Drew to quietly investigate. Before Drew can uncover anything, Rainsby is killed in a suspicious riding accident.
Thorburn Hall is filled with guests, and as Drew continues to dig, he realizes that each might have had a motive to put Raisnby out of the way. Together with Madeline and Nick, he must sort through shady business dealings, international intrigue, and family tensions to find a killer who always seems to be one step ahead.
Find Death at Thornburn Hall online at:
Amazon | ChristianBook | Goodreads | Koorong
Read the introduction to Death at Thornburn Hall below: