Aven was born in Ireland, married from the workhouse, widowed in Norway, and has now arrived in Blackbird Mountain, Virginia, to the only family she has left—even though it's a distant link. She to find Aunt Dorothe is dead and "the boys"—Dorothea's beloved nephews—are full grown men. Jorgan, the oldest, is betrothed. Thor, the middle brother, is Deaf. And Haakon, the youngest is full of fun. These are the three Sons of Blackbird Mountain.
The brothers invite Aven to stay—although she doesn't have many options. She wonders if she's made the right decision after the family receives a late-night visit from the neighbours. It appears the Klan don't like Thor's habit of hiring Negroes, even if they are the hardest workers. Despite the neighbours, Aven is becoming attached to the family, and especially to Thor.
One of the most interesting aspects of Sons of Blackbird Mountain was the character of Thor.
Thor has been Deaf since birth. He reads lips, and communicates through American Sign Language (ASL), and through writing notes. It's fascinating to read this insight into Deaf life and culture in a time gone by. Thor is interesting for another reason: he's in charge of the family cidery, brewing beverages that keep the family in fine style.
And he's an alcoholic.
That's an issue for Aven, because her late husband was an alcoholic, and it killed him. She's initially afraid of Thor, but soon learns to trust him. But not completely. Not while he's dependent on alcohol.
So Sons of Blackbird Mountain has plenty of conflict, and plenty of issues for the characters to deal with. It's a gripping read with fascinating and original characters, and plenty of emotion. The writing is strong, although Bischof does have this weird habit of using odd sentence fragments—something I love in contemporary fiction, but which feels out of place in a historical novel. But that's a minor niggle in an otherwise strong novel.
Overall, I recommend Sons of Blackbird Mountain for historical fiction lovers, especially those who like reading about small mountain communities.
Thanks to Thomas Nelson and NetGalley for providing a free ebook for review.
About Joanne Bischof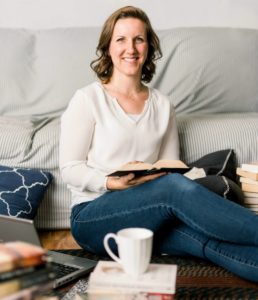 Joanne Bischof is an ACFW Carol Award and ECPA Christy Award-winning author. She writes deeply layered fiction that tugs at the heartstrings. She was honored to receive the San Diego Christian Writers Guild Novel of the Year Award in 2014 and in 2015 was named Author of the Year by the Mount Hermon conference.
Joanne's 2016 novel, The Lady and the Lionheart, received an extraordinary 5 Star TOP PICK! from RT Book Reviews, among other critical acclaim. She lives in the mountains of Southern California with her three children.
You can find Joanne Bischof online at:
Website | Facebook | Instagram | Pinterest | Twitter
About Sons of Blackbird Mountain
A Tale of Family, Brotherhood, and the Healing Power of Love
After the tragic death of her husband, Aven Norgaard is beckoned to give up her life in Norway to become a housekeeper in the rugged hills of nineteenth-century Appalachia. Upon arrival, she finds herself in the home of her late husband's cousins—three brothers who make a living by brewing hard cider on their three-hundred-acre farm. Yet even as a stranger in a foreign land, Aven has hope to build a new life in this tight-knit family.
But her unassuming beauty disrupts the bond between the brothers. The youngest two both desire her hand, and Aven is caught in the middle, unsure where—and whether—to offer her affection. While Haakon is bold and passionate, it is Thor who casts the greatest spell upon her. Though Deaf, mute, and dependent on hard drink to cope with his silent pain, Thor possesses a sobering strength.
As autumn ushers in the apple harvest, the rift between Thor and Haakon deepens and Aven faces a choice that risks hearts. Will two brothers' longing for her quiet spirit tear apart a family? Can she find a tender belonging in this remote, rugged, and unfamiliar world?
A haunting tale of struggle and redemption, Sons of Blackbird Mountain is a portrait of grace in a world where the broken may find new life through the healing mercy of love.
Find Sons of Blackbird Mountain online at:
Amazon US | Amazon AU | ChristianBook | Goodreads | Koorong
Read the introduction to Sons of Blackbird Mountain below: