Falling for You is the second novel in the Bradford Sisters series, and it's the story of an internationally famous model and a retired football star.
Here's the Amazon description:
Famously beautiful model Willow Bradford is taking a temporary break from her hectic schedule to work as the innkeeper at her family's small-town bed-and-breakfast. She was enjoying the peace of her hometown, Merryweather, Washington, right up until she came face-to-face with Corbin Stewart, the man she loves to hate. A thoughtful rule-follower by nature, Willow threw caution to the wind four years ago when she entrusted her heart to Corbin–and suffered the consequences when it all fell apart.
Former NFL quarterback Corbin is forceful, charming, and accustomed to getting what he wants . . . except where Willow Bradford is concerned. Unable to forget her, he's never stopped regretting what happened between them. When their paths unexpectedly cross again, he's determined to make her give him a second chance.
When a decades-old missing persons case finds Corbin and Willow working together, they're forced to confront their past and who they've become–and whether they can risk falling for one another all over again.
My Thoughts
Injury has forced Corbin Stewart to retire from football. He's bought a house in Shore Pine, Washington, to be near his only remaining family. What he didn't know was that it also put him near ex-girlfriend Willow Bradford, now on a sabbatical from modelling, living in nearby Merryweather and managing her family B&B.
Charlotte Dixon, Corbin's twelve-year-old niece, has discovered a family secret.
She's convinced Willow Bradford will help her uncover the mystery behind the secret, and convinces Corbin to introduce her to Willow. Willow agrees to help, even though helping will bring her into too much contact with ex-boyfriend Corbin. Who is still devastatingly attractive, despite the way he broke up with her four years ago.
Falling for You follows the same pattern as True to You and the free prequel novella, Then Came You. It intersperses the present-day story with letters, emails, and text messages from the past and present. It's a novel (!) way to tell a story, and it works as we see the past and present stories of Willow, Corbin, and others.
And it's a strong story.
It's the romance of two people who messed up years ago, and have to work out if there's a way through that mess to find happiness. Part of that mess was because while Willow is and always has been a strong Christian, Corbin called himself a Christian but didn't live the life (football star, remember?). He's now become a Christian, but finding life hard.
Willow has her own problems with faith, and they are so deep-seated it actually takes her a while to realise they even exist. This, to me, was the depth in the book—Willow coming to terms with her past choices, and what that means for her faith. And there was a fascinating suspense plot around Charlotte's secret.
I loved True to You because I related to Nora, the librarian. She's bookish, and that meant I could relate to her in a way I can't relate to an internationally famous model. But I could still relate to Willow as a woman who has made mistakes, who has to learn what forgiveness really means.
Falling for You is a touching tale of love lost and love found again, underpinned by an intriguing mystery, and the power of God to forgive.
Now I'm looking forward to the third book in the Bradford Sisters series, the story of the pastry chef who doesn't realise her best friend of forever is in love with her (and has been forever). He knows it. I know it. Her sisters know it. But she doesn't, and that's a trope I love.
Thanks to Bethany House and NetGalley for providing a free ebook for review.
About Becky Wade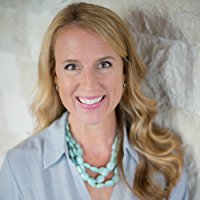 Becky is the Carol and Christy award winning author of heartwarming, humorous, and swoon-worthy contemporary inspirational romances.
During her childhood in California, Becky frequently produced homemade plays starring her sisters, friends, and cousins. These plays almost always featured a heroine, a prince, and a love story with a happy ending. She's been a fan of all things romantic ever since.
These days, you'll find Becky in Dallas, Texas failing to keep up with her housework, trying her best in yoga class, carting her three kids around town, watching TV with her Cavalier spaniel on her lap, hunched over her computer writing, or eating chocolate.
You can find Becky Wade online at:
Website | Facebook | Instagram | Pinterest | Twitter
You can find Falling for You online at:
Amazon | ChristianBook | Goodreads | Koorong
You can read the introduction to Falling for You below: