It's Throwback Thursday! Today I'm resharing my review of No One's Bride by Nerys Leigh, the first in the unique Escape to the West series. This review originally appeared at Australasian Christian Writers.
Orphan Amy Watts lies when she agrees to become a mail order bride.
She has no intention of marrying Adam Emerson, the bank and post office clerk from a tiny town in Northern California. She only knows she wants to go to San Francisco—as far away as possible from her rich, influential and lecherous New York employer.
Adam has prayed for God to bring him a wife, and he is overjoyed at his first sight of Amy—she is beautiful. He's also pleased to find out she's a likeable person—until she confesses that she doesn't want to marry him. But she's going to do the honourable thing and stay in town long enough to pay him back the money he spent in bringing her here.
While Amy was a great character and I fully understood her motive for her inappropriate behaviour, it was Adam who caught my attention. He's the perfect gentleman, the perfect romance hero (if he has a fault, it is perhaps that he has no faults. Hey, it's 1870 and the guy can cook and do laundry!).
I very much liked the Christian content.
Adam and Amy each had a strong Christian faith, and this showed consistently throughout the book. I thought the writing was strong, especially for a debut author, and I especially liked the humour sprinkled throughout.
Amy was one of five mail order brides delivered to the tiny town of Green Hill Creek, and I think the remaining novels in the Escape to the West series will be the stories of the other four women.
Overall, No One's Bride is an excellent debut novel, and I'm now looking forward to the next book in the series—Sara's story. And waiting for Jo's story because of what wasn't said …
Recommended for fans of Christian historical romance from authors such as Mary Connealy, Karen Witemeyer, Regina Jennings, Carol Cox, Jen Turano and Lucy Thompson.
Thanks to the author for providing a free ebook for review.
About Nerys Leigh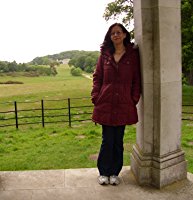 Nerys Leigh writes thoroughly romantic Christian historical love stories. She loves heroes who are strong but sweet and heroines who are willing to fight for the life they want.
She's from the UK, which you would think puts her in a unique position to not write about mail order brides in the American west, but the old adage of writing what you know has never appealed to her. She has an actual American read each book before publishing to make sure she hasn't gone all English on it.
No One's Bride is the first in the Escape to the West series which tells the stories of a group of women willing to travel across America to find happiness, and the men determined to win their hearts.
You can find Nerys Leigh online relaxing and generally enjoying the view at:
About No One's Bride
Small town romance meets the Wild West!
The last thing Amy wants is a husband, but her only hope of escape from a dangerous situation is to answer postmaster Adam Emerson's advertisement for a mail order bride.
When her desperate plan to trick Adam into paying her way across the country goes awry, her guilty conscience compels her to stay in the small Californian town of Green Hill Creek to find a way to repay him the cost of the train fare before she moves on. The trouble is, she's completely unprepared for the effect of his kindness, charm, wit, and ridiculously blue eyes.
As her dream of a new life in San Francisco falters and her past catches up with her, can Amy hold onto the one thing she never thought she'd want but now can't bear to lose?
Five mail order brides, one small Californian town, a lot of romance! The Escape to the West series tells the stories of five young women in 1870 who travel across the country to find love. These uplifting Christian historical romances will transport you to a time of courageous women longing for a better life and the strong men dedicated to winning their hearts. Each novel can be read on its own or as part of the series.
You can find No One's Bride online at:
You can read the introduction to No One's Bride below: