Gabriel Silversmith is the gold miner we first met in The Truth About Love, where his mail order bride left him for another man. Not that we blamed her—Gabriel is rough around the edges, to put it politely.
Now he's married to Grace Myers, and married life isn't exactly going as planned.
Grace has opinions of her own and isn't afraid to express them. And she's refined … perhaps too refined for a gold miner living in a one-room shack with no running water. Will Grace stay, or will this be another disaster?
Grace chose to become a mail order bride to get away from her jealous and selfish stepmother.
She'd thought anything would be better than marrying Felicia's choice for her, the ancient Mr Howard who has hair growing out both ears. Gabriel is younger and probably more attractive … if she can get him to shave off that awful beard and stop chewing the tobacco that makes him smell like an outhouse.
I have to admit that while I wanted Gabriel to get his happy-ever-after after the way Jo treated him, I also see Grace's point. She's a lady, and Gabriel is certainly not a gentleman. Or an angel. And is he really a successful gold miner? If so, wouldn't he live somewhere nicer that a one-room shack?
But Grace and Gabriel are both determined to make the marriage work, and that's a great starting point for an enjoyable marriage of convenience story with a touch of suspense.
The first five books in Nerys Leigh's Escape to the West series can be read in any order, because they all take place simultaneously. More than Gold is the exception—it's best to read The Truth About Love first, because that covers some of Gabriel's history, and shows why Grace arrives alone, after the other brides.
Thanks to the author for providing a free ebook for review.
About Nerys Leigh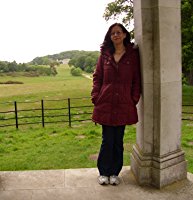 Nerys Leigh writes thoroughly romantic Christian historical love stories. She loves heroes who are strong but sweet and heroines who are willing to fight for the life they want.
She's from the UK, which you would think puts her in a unique position to not write about mail order brides in the American west, but the old adage of writing what you know has never appealed to her. She has an actual American read each book before publishing to make sure she hasn't gone all English on it.
No One's Bride is the first in the Escape to the West series which tells the stories of a group of women willing to travel across America to find happiness, and the men determined to win their hearts.
You can find Nerys Leigh online relaxing and generally enjoying the view at:
About More Than Gold
Does "second time lucky" apply to mail order brides?
Let's just say that Gabriel's first attempt at marriage didn't go well. But his new bride, Grace, she has curves he can't keep his eyes from, and he's determined this time will be different. Until he ends up sleeping in the barn.
Why are women so difficult to figure out? All he wants is someone to cook, clean, and warm his bed. But Grace wants more. She wants respect and someone to care about her. She wants love.
So now Gabriel has to learn how to court his wife just so he can sleep in his own bed again. As for falling in love, though, he just isn't the type.
But he's been wrong before.
You can find More Than Gold online at:
Amazon US | Amazon AU | Goodreads
You can read the introduction to More Than Gold below: