Nerys Leigh's Escape to the West series is unique.
All the books run concurrently, which means the stories can be read in any order as none comes first. Each book follows one of five women who have come west to California as a mail-order bride.
The Unexpected Groom is the fourth book in the Escape to the West series.
Louisa has been raised to believe she must marry well in order to be happy. She's arrived in California to marry Jesse Johnson, an accountant with the local bank—a man with the right kind of social standing for Louisa. But when she arrives, she finds Jesse's letters neglected to tell her one significant fact …
Jesse Johnson is used to women calling off relationships when they find out what's wrong with him. So, despite his better judgement, he agrees when his friend Adam suggests he doesn't mention his problem. Instead, let the lady arrive and get to know the real Jesse before making a decision.
Louisa is taken aback at first, but agrees to stay for two weeks, to get to know Jesse. But she finds more than bargained for and has to make the difficult decision to follow her parents, follow her heart … or follow God.
The Unexpected Groom was an excellent romance.
I loved the growing romantic tension between Lousia and Jesse almost as much as I loved the Christian element. It was great to see a character really consider their Christian faith and deepen their relationship with God, even over the relatively short timeframe of this novel (a few weeks).
The one problem with the story was the excess of run-on sentences (Leigh uses British spelling and grammar, which explains Britishisms like gammon, but run-on sentences are wrong in all versions of English). But these didn't detract from the excellent story, and the great use of humour: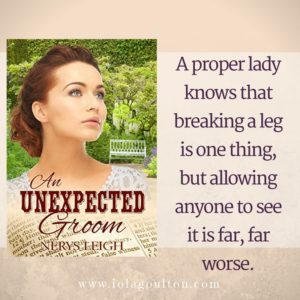 Recommended for fans of Western Christian historical romance.
Thanks to the author for providing a free ebook for review.
About Nerys Leigh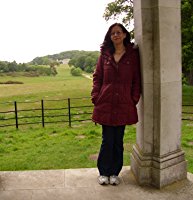 Nerys Leigh writes thoroughly romantic Christian historical love stories. She loves heroes who are strong but sweet and heroines who are willing to fight for the life they want.
She's from the UK, which you would think puts her in a unique position to not write about mail order brides in the American west, but the old adage of writing what you know has never appealed to her. She has an actual American read each book before publishing to make sure she hasn't gone all English on it.
No One's Bride is the first in the Escape to the West series which tells the stories of a group of women willing to travel across America to find happiness, and the men determined to win their hearts.
You can find Nerys Leigh online relaxing and generally enjoying the view at:
About The Unexpected Groom
When heart and mind pull in opposite directions, which way do you turn?
Louisa Wood's parents have always taught her that appearance is everything, and to behave like a lady because one day she would marry a man who could make her one. But without money or social standing, New York society has proved beyond Louisa's reach. The answer? Go where no one knows who she is.
A young accountant advertising for a mail order bride seems the perfect solution, until Louisa arrives in California to find that Jesse Johnson has been keeping a secret and isn't at all what she's expecting. What he is, however, is charming and handsome, and she agrees to stay for two weeks despite knowing she will likely return home at the end.
But as a mystery at the bank where Jesse works draws them closer and her heart wakes to new possibilities, for the first time in her life Louisa finds herself doubting everything she's been raised to believe.
Find The Unexpected Groom online at: