The Judge's Daughter is the seventh book in Nerys Leigh's Escape to the West series. George Parsons met and fell for Millicent in one of the earlier books in the series, after Millicent travelled to the small California town of Green Hill Creek to escape her abusive husband. Now George is heading to New York City to renew his relationship with Millicent.
I have read all the earlier books in the series but can't actually remember the circumstances which brought Millicent to Green Hill Creek, although I do vaguely remember the start of their relationship. No matter. That's not what The Judge's Daughter is about, and it's not even set in Green Hill Creek.
The new setting means new characters—Millicent's mother, who is friendly and amenable to George's pursuit of their daughter. And Millicent's father, the judge, who is a lot less friendly. There are also the adorable/annoying children he meets at the train station, some of many who struggle to survive in New York.
It's great to see a romance between an older couple. It's especially great to see a romance with a divorced woman in a time when divorce was frowned upon by most of polite society. Being older, George and Millicent knew themselves and their own minds better. But they still had to content with the overprotective father (although he had good reason to be), and their own differences in upbringing and expectations. I enjoyed that, and I enjoyed (as always) the humour and the Christian elements.
The Judge's Daughter is another fun romance from Nerys Leigh. I recommend it for fans of Christian historical romance, especially westerns.
Thanks to the author for providing a free ebook for review.
About Nerys Leigh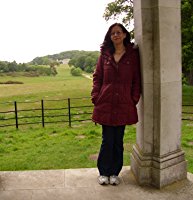 Nerys Leigh writes thoroughly romantic Christian historical love stories. She loves heroes who are strong but sweet and heroines who are willing to fight for the life they want.
She's from the UK, which you would think puts her in a unique position to not write about mail order brides in the American west, but the old adage of writing what you know has never appealed to her. She has an actual American read each book before publishing to make sure she hasn't gone all English on it.
No One's Bride is the first in the Escape to the West series which tells the stories of a group of women willing to travel across America to find happiness, and the men determined to win their hearts.
You can find Nerys Leigh online at:
About The Judge's Daughter
After being a widower for almost half his life, fifty-one-year-old George Parsons didn't count on ever falling for a woman again, until Millicent came along. After meeting her in his tiny home town of Green Hill Creek, he's smitten. So when Millie asks him to visit her in New York, he doesn't hesitate to make the week-long journey from California to see her again.
But what was easy in Green Hill Creek seems next to impossible in the city, and in the midst of the ostentatious wealth and desperate poverty of 1870 New York, George will have to overcome snobbery, prejudice and danger to win Millie's heart.
Find The Judge's Daughter online at:
Amazon US | Amazon AU | Goodreads
You can read the introduction to The Judge's Daughter below: