Isabelle Wood has left home to avoid being forced to marry.
Instead, she's joined the Pinkerton Detective Agency as one of their new wave of female agents. But the letter offering her employment missed out one vital detail: that she will be required to enter into a marriage of convenience as part of her first training assignment.
(Yes, this is pretty far-fetched, but it does illustrate something I've recently realised about good fiction: if you're going to ask your reader to buy into some far-fetched idea or coincidence, introduce it in Chapter One. Or on page one. Because then anyone who can't buy into the idea will stop reading. Those of us who think it sounds like fun will keep reading and forgive the unbelievable set-up.)
Belle's new husband is equally unenthusiastic about the idea. His idea of a good marriage is one he's not part of.
Anyway, Belle and Val (yes, the hero is Valentine) are sent to Cheyenne to save a burlesque show from being sabotaged. But they'll have to work undercover, which means Belle gets a job as a dancer (complete with what she considers to be an inappropriate costume), while Val hires on as a stage hand (which involves more manual work than he's used to).
An Agent for Belle was a quick and enjoyable read.
I especially enjoyed the sassy and witty dialogue, and the scenes where Belle gets one up on Val. He has occasional male chauvinist tendencies (he's a man of his time—the 1870s), but Belle wastes no time in putting him in his place and demonstrating that she does have an aptitude for investigative work … among other things.
It was fun to watch two people who were actively against marriage fall for each other, especially given how reluctant they were to admit it. It's also a story of women ahead of their time, from Belle the Pinkerton agent to Maria, who is a savvy businesswoman who just happens to manage and lead a troupe of burlesque dancers.
Overall, the story has a great mix of romance and suspense, all pitched against an intriguing yet fun concept, and with lots of great lines. Recommended for fans of historical westerns.
Thanks to the author for providing a free ebook for review.
About Nerys Leigh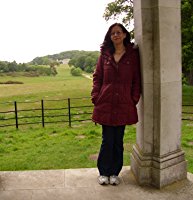 Nerys Leigh writes thoroughly romantic Christian historical love stories. She loves heroes who are strong but sweet and heroines who are willing to fight for the life they want.
She's from the UK, which you would think puts her in a unique position to not write about mail order brides in the American west, but the old adage of writing what you know has never appealed to her. She has an actual American read each book before publishing to make sure she hasn't gone all English on it.
No One's Bride is the first in the Escape to the West series which tells the stories of a group of women willing to travel across America to find happiness, and the men determined to win their hearts.
You can find Nerys Leigh online at:
About An Agent for Belle
Marriage is the last thing Belle wants, but she'll have to get married to avoid it.
When Isabelle Wood answers a newspaper advertisement for female Pinkerton detectives, it seems the perfect way to avoid her parents' desire for her to wed… until she discovers she has to marry her training agent for the duration of her first case.
It would be easier if her temporary husband, Valentine Stevens, wasn't so ridiculously charming and attractive. But all they have to do is stop whoever is sabotaging a burlesque show in Cheyenne, and then she can go back to being happily unattached. Surely she can resist temptation for that long.
But with criminals on the loose, the glamorous lead actress taking an interest in Val, and a hefty dose of stage fright, Belle's first case is going to be far from easy.
Find An Agent for Belle online at:
Amazon US | Amazon AU | ChristianBook | Koorong
Read the introduction to An Agent for Belle below: