It's Throwback Thursday! Today I'm resharing my review of Send Down the Rain by Charles Martin. He's one of my favourite male Christian fiction authors, with a real strength in structuring stories so I can't predict what's going to happen.
About Send Down the Rain
Allie is still recovering from the loss of her family's beloved waterfront restaurant on Florida's Gulf Coast when she loses her second husband to a terrifying highway accident. Devastated and losing hope, she shudders to contemplate the future—until a cherished person from her past returns.
Joseph has been adrift for many years, wounded in both body and spirit and unable to come to terms with the trauma of his Vietnam War experiences. Just as he resolves to abandon his search for peace and live alone at a remote cabin in the Carolina mountains, he discovers a mother and her two small children lost in the forest. A man of character and strength, he instinctively steps in to help them get back to their home in Florida. There he will return to his own hometown—and witness the accident that launches a bittersweet reunion with his childhood sweetheart, Allie.
When Joseph offers to help Allie rebuild her restaurant, it seems the flame may reignite—until a 45-year-old secret from the past begins to emerge, threatening to destroy all hope for their second chance at love.
In Send Down the Rain, Charles Martin proves himself to be a storyteller of great wisdom and compassion who bears witness to the dreams we cherish, the struggles we face, and the courage we must summon when life seems to threaten what we hold most dear.
Send Down the Rain is an unusual story in many ways.
It starts decades ago with two brothers the day their father moves out, then jumps forward to the present. The first part shows three different characters, and it wasn't until about a quarter of the way through that it became clear who the main character was.
Joseph is a 63-year-old Vietnam war veteran who has been running for more years than seems possible. We get to know him only gradually, as the story bounces back and forth between his past and his present, highlighting his failures (and sometimes his successes), his weaknesses and sometimes his strengths. He's a strong narrator because he is weak: he's humble and unpretentious and focuses more on what he's done wrong than what he's done right.
I got to about the 90% point in this book and thought it was good, but it hadn't reached the heights of The Mountain Between Us (now a major movie starring Kate Winslet and Idris Elba) or Long Way Gone (a modern retelling of the story of the Prodigal Son).
But by the time I finished Send Down the Rain I had changed my mind.
It's at least as good as these, but the power builds up and up and only bites at the end. There isn't an obvious Christian thread or an overt parallel with a Bible story (as there was in Long Way Gone). Send Down the Rain is more of an exploration of love, loyalty, and family, a story of sacrifice and second chances. And that pretty much sums up the gospel.
An outstanding novel of love and faithfulness, in Martin's trademark understated yet compelling style. Recommended.
Thanks to Thomas Nelson and NetGalley for providing a free ebook for review.
About Charles Martin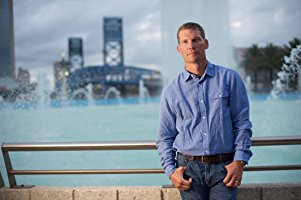 Christy and I married in 1993. If you include dating, I've known and loved her for more than half my life. She is and always will be the home for my heart. We have three boys. Charlie, John T. and Rives. Folks often ask me, which of my books do I like the best. You might as well line up my sons and ask me who I love the most.
My hobbies are bow hunting, working out (a blend of old school stuff and martial arts, called Fight Fit) and Tae Kwon Do. In October 2012 I earned my black belt but I'm still the least flexible person you've ever met. The guy that trains me, laughs everytime I start warming up. My boys are far better at Tae Kwon Do than I but I doubt they have as much fun – I get to do and watch. They just do.
I also like to write, but that's another story.
You can find Charles Martin online at:
You can find Send Down the Rain online at:
Amazon | ChristianBook | Goodreads
You can read the introduction to Send Down the Rain below: