It's Throwback Thursday, when I share a review of an older book (or reshare a review). Today I'm resharing my review of the brilliant Long Way Gone by Charles Martin. His newest book, Send Down the Rain, released on Wednesday, and I'll be reviewing it later this month. This review first appeared at Australasian Christian Writers.
About Long Way Gone
No matter where you go, no matter whether you succeed or fail, stand or fall, no gone is too far gone. You can always come home.
At the age of eighteen, musician and songwriter Cooper O'Connor took everything his father held dear and drove 1,200 miles from home to Nashville, his life riding on a six-string guitar and the bold wager that he had talent. But his wager soon proved foolish.
Five years after losing everything, he falls in love with Daley Cross, an angelic voice in need of a song. But just as he realizes his love for Daley, Cooper faces a tragedy that threatens his life as well as his career. With nowhere else to go, he returns home to the remote Colorado mountains, searching for answers about his father and his faith.
When Daley shows up on his street corner twenty years later, he wonders if it's too late to tell her the truth about his past—and if he is ready to face it himself.
A radical retelling of the prodigal son story, Long Way Gone takes us from tent revivals to the Ryman Auditorium to the tender relationship between a broken man and the father who never stopped calling him home.
My Review
Well, that's a great first line—I don't know who is speaking, but by the end of the first page I know he's a musician. Who else would describe the worn-out guitar as "an old Gibson J-45"? And then he goes on to say:
The residue of musical genius. That's strong writing—writing I want to read more of. I'm not going to bore you with all the quotes I highlighted in Long Way Gone, but there were a lot. But I hope you'll forgive me one more, because it's a great example of how to get a lot of setting across in one short sentence:
But you're here to read a book review, not a commentary on the writing.
Long Way Gone is a retelling of the story of the Prodigal Son, set in high-country Colorado and among the ups and downs of the Nashville music industry. It's written in first person from the point of view of Cooper O'Connor, an evangelist's son with a gift for music.
The writing is outstanding, the plot is excellent, the structure close to perfect.
I was fascinated by the musical information—the Ryman theatre, the Nashville Notation System, the whole music vibe. Anyone who watches Nashville or who has ever visited (or wants to visit) the home of country music will appreciate that side of it (and will be able to relate to the characters). I was impressed with the way so much research and setting was dropped in without it ever getting in the way of the central story.
The story spans decades.
So while we see Cooper's mistakes through his eyes, we see them through the eyes of a man who has matured enough to realise they were mistakes—mistakes he's repented from, even if he's still not fully reconciled to the consequences of those mistakes.
It's a story about a man (who loves a woman—yes, there is a romance element), and his love for music. It's a story of a man who makes mistakes in his pursuit of happiness. And it's a story about how sometimes those mistakes can be made right again, and sometimes they can't.
Recommended for music fans, romance fans, or anyone who appreciates good writing.
Thanks to Thomas Nelson and NetGalley for providing a free ebook for review. You can find out more about Charles Martin at his website, and you can read the introduction to Long Way Gone below:
About Charles Martin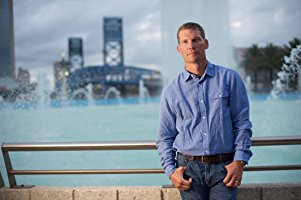 Christy and I married in 1993. If you include dating, I've known and loved her for more than half my life. She is and always will be the home for my heart. We have three boys. Charlie, John T. and Rives. Folks often ask me, which of my books do I like the best. You might as well line up my sons and ask me who I love the most.
My hobbies are bow hunting, working out (a blend of old school stuff and martial arts, called Fight Fit) and Tae Kwon Do. In October 2012 I earned my black belt but I'm still the least flexible person you've ever met. The guy that trains me, laughs everytime I start warming up. My boys are far better at Tae Kwon Do than I but I doubt they have as much fun – I get to do and watch. They just do.
I also like to write, but that's another story.
You can find Charles Martin online at: