It's First Line Friday, which means it's time to open the book nearest you and share the first line. Today I'm sharing from A Defense of Honor by the wonderful Kristi Ann Hunter. It's a long one!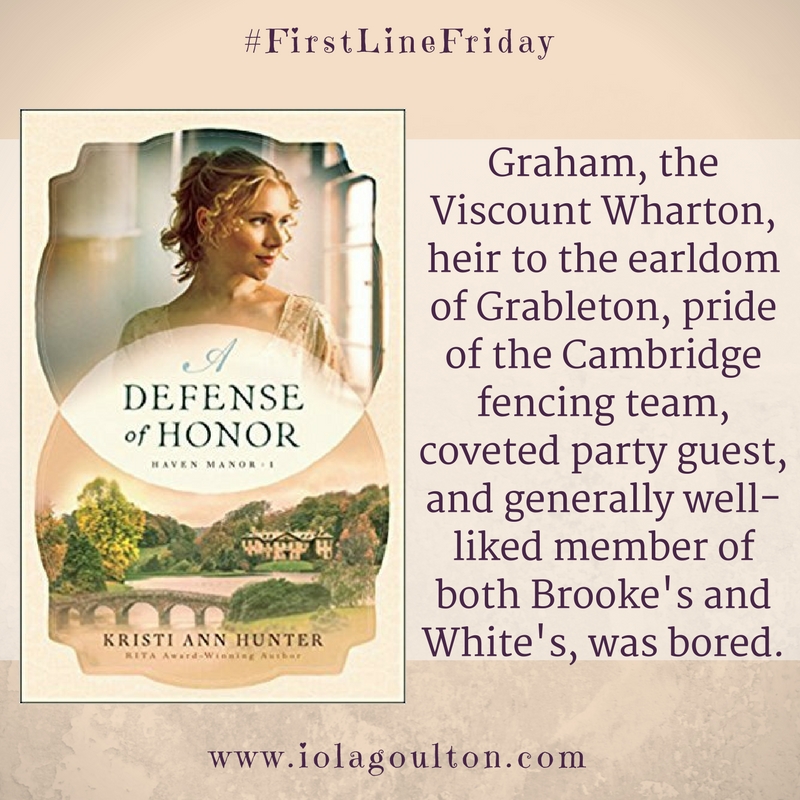 Okay, it's long, but doesn't it make you want to keep reading? Why is he bored? What's going to get him out of his boredom? Something has to—no one wants to read a book about a bored man.
The other thing that intrigued me about this first line is that it's the male point of view. Most romance novels start with the lady (or Lady).
About A Defense of Honor
When Katherine "Kit" FitzGilbert turned her back on London society more than a decade ago, she determined never to set foot in a ballroom again. But when business takes her to London and she's forced to run for her life, she stumbles upon not only a glamorous ballroom but also Graham, Lord Wharton. What should have been a chance encounter becomes much more as Graham embarks on a search for his friend's missing sister and is convinced Kit knows more about the girl than she's telling.
After meeting Graham, Kit finds herself wishing things could have been different for the first time in her life, but what she wants can't matter. Long ago, she dedicated herself to helping women escape the same scorn that drove her from London and raising the innocent children caught in the crossfire. And as much as she desperately wishes to tell Graham everything, revealing the truth isn't worth putting him and everyone she loves in danger.
You can find A Defense Honor online at
Amazon | ChristianBook | Goodreads | Koorong
Click the button to check out what my fabulous fellow FirstLineFriday bloggers are sharing today:
You can then click the link which will take you to the master page of all this week's #FirstLineFriday posts.
And you can click here to check out my previous FirstLineFriday posts.
Share your first line in the comments, and happy reading!