Brady Collins made a mistake.
That mistake left him married with a baby son, then divorced. Now his ex-wife is dead, and he's learning to navigate life as a solo parent. But then his in-laws sue for custody, saying Brady isn't Sam's father. Oops.
Hope Daniels is happy to help.
She loves little Sam as if he was her own. And he might be: Brady's lawyer mistakenly thinks Hope and Brady are engaged. He points out that being engaged might help Brady in the upcoming custody battle, but not as much as them being married would. So Hope proposes a solution: getting married to make sure Brady gets to keep his son.
The marriage of convenience trope is relatively common in historical romance, but not so common in contemporary. I suspect this is because it can be hard to find a scenario where the circumstances behind the marriage of convenience makes sense. It often reads like a contrived way of getting the characters where the author wants them: married. Sure, the fake engagement and marriage is contrived, but it works for these characters.
My one issue with Honeysuckle Dreams was that Brady was too perfect. Sure, he had problems: his son, his ex-wife's family, his mother. But they were all external problems. Fixing them relied on other people, not on Brady and his own character journey.
Hope was a much more interesting character.
She's been in love before, in high school. That relationship ended badly. Her boyfriend collapsed and died in right in front of her at a high school basketball game. It took Hope years to recover and she's still not sure she's ready to risk her heart again. And that's not a good way to begin a marriage, even a marriage of convenience.
Honeysuckle Dreams is the second book in Denise Hunter's Blue Ridge Romance series, following Blue Ridge Sunrise. She's also written Sweetbriar Cottage. It isn't officially part of the Blue Ridge Romance series, but is set in the same town before the events of Blue Ridge Sunrise, and features some of the same characters.
Overall, Honeysuckle Dreams was an excellent contemporary romance, although I didn't think it measured up to the outstanding Sweetbriar Cottage. Mind you, that's a hard act for any author to follow.
Thanks to Thomas Nelson and NetGalley for providing a free ebook for review.
About Denise Hunter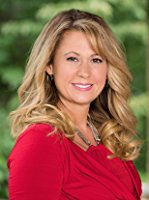 Denise Hunter is the internationally published bestselling author of more than 30 books, including "The Convenient Groom" and "A December Bride" which have been made into Hallmark movies. She has appeared on the The 700 club and won awards such as The Holt Medallion Award, The Carol Award, The Reader's Choice Award, The Foreword Book of the Year Award, and is a RITA finalist.
Denise writes heartwarming, small-town love stories. Her readers enjoy the vicarious thrill of falling in love and the promise of a happily-ever-after sigh as they savor the final pages of her books.
In 1996, inspired by the death of her grandfather, Denise began her first book, writing while her children napped. Two years later it was published, and she's been writing ever since. Her husband says he inspires all her romantic stories, but Denise insists a good imagination helps too!
When Denise isn't orchestrating love lives on the written page, she enjoys traveling with her family, drinking good coffee, and playing drums. Denise makes her home in Indiana where she and her husband raised three boys and are currently enjoying an empty nest.
Find Denise Hunter online at:
About Honeysuckle Dreams
After Brady Collins' ex-wife dies, he receives devastating news—his nine-month-old son Sam isn't his son at all. And Sam's wealthy maternal grandparents want custody of the child. Brady knows he's in for the fight of his life. But regardless of what any blood test says, Sam is his son, and Brady will go to any lengths to keep him.
Brady's attorney tips him off that one major life change would virtually assure him of winning guardianship of baby Sam at the final hearing: an impending marriage. And his friend Hope is willing to step in as the loving and devoted fiance.
Local radio celebrity Hope Daniels has been driven by a solitary goal her entire life, and after a happy accident she's finally offered her dream job. But if the truth comes out about her arrangement with Brady, she may miss the chance of a lifetime and stand in the way of a dear friend's dreams.
As Brady and Hope make sacrifices to help each other in their times of need, they risk uncovering a truth neither of them expects to find.
You can find Honeysuckle Dreams online at:
Amazon | ChristianBook | Goodreads | Koorong