This is a fun novella collection from four popular authors, each writing in the genre they are known for. The stories are linked several ways—they are linked to each other as the heroines are gifted and then pass down a family heirloom, and each has a Christmas scene (enough to make it marketable as a Christmas collection, but not so Christmassy that it felt odd to read in October). Some of the stories are also linked to other stories from that individual author. Clever, and fun!
As is typical for novellas, the stories are quick and relatively fast-paced, but each is a complete and satisfying story.
Legacy of Love by Kristi Ann Hunter is loosely linked to her current Haven Manor series.
The heroine, Sarah Gooding, was raised at Haven Manor and has no idea who her parents are. She's working as the companion to the Dowager Countess of Densbury and is secretly in love with Lady Densbury's grandson, Mr Everard. Or perhaps that's not-so-secretly …
The story is written in Hunter's trademark fun style, with subtle humour that builds character and reduces tension rather than crossing over to the ridiculous. Despite the short length, Legacy of Love manages to pack quite the emotional punch—I can't remember the last time I cried over a novel, let alone a novella.
Gift of the Heart by Karen Witemeyer introduces widow Ruth Fullbright and her daughter, Naomi.
Ruth has come to the resort town of Hope Springs to take a job as cook at the Homespun Cafe. But Ruth has no money to pay the deposit or advance rent on the only place in town she can afford, so she asks the owner if he'll accept a broach, a family heirloom, as security. He does … especially because he's curioius about and attracted to the small town's new resident.
This is a feel-good romance, exactly what I expect from Karen Witemeyer. There are great characters, Christian themes, and plenty of subtle humour.
(As an aside, Hope Springs seems to be a popular name for fictional towns—I've just started Who I Am With You by Robin Jones Gunn, which also features a heroine living in Hope Springs. I guess Christian authors like the symbolism.)
A Shot at Love by Sarah Loudin Thomas features an unusual heroine.
She's a crack shot who carves rifle butts and wants to own her own gunsmithing store one day. When Hank visits town for work, Fleeta soon finds he's the only person she's met—male or female—who can give her some competition for her shooting. But will he be content to settle a shooting, or will he want more?
This was the story I didn't enjoy as much as the others. I haven't read anything by Sarah Loudin Thomas before, so that could be because I was still trying to get used to her style. It could also be because I'm not a gun person, so the idea of anyone wanting to be a gunsmith is outside my experience.
However, that's a statement of preference. There was nothing wrong with the story, the characters, or the writing. I just found it harder to related to Fleeta, which made it difficult to engage with the story.
The final story, Because of You by Becky Wade, is set in the present day.
It's part of the Bradford Sisters Romance series, but it's not about one of the Bradford sisters. Instead, it's about Maddie Winslow, who works for one of the sisters.
Because of You is a classic friends-to-something-else plot, as Maddie is in love with her (dead) best friend's husband. When they are assigned to be partners in the church Christmas project, they are forced to spend time alone together, and that changes things …
All in all, this was a fun novella collection centered around a family heirloom—a valuable brooch. If (like me) you already know and enjoy one or more of these authors, then the collection is a great way to be introduced to the others.
Thanks to Bethany House and NetGalley for providing a free ebook for review.
About the Authors
Kristi Ann Hunter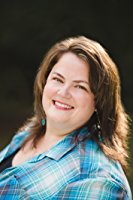 Kristi is the RITA® award winning author of Regency romance novels from a Christian worldview. Her titles include A Noble Masquerade, An Elegant Façade, and An Uncommon Courtship. Beyond writing, she is also speaker, teaching classes in writing as well as Biblical and spiritual topics. She has spoken to writers' groups, schools, and young women's groups at churches.
​When she is not writing or interacting with her readers, Kristi spends time with her family and her church. A graduate of Georgia Tech with a computer science degree, she can also be found fiddling with her computer in her free time. A born lover of stories she is also an avid reader. From very young she dreamed of sharing her own stories with others and praises God daily that she gets to live that dream today.
You can find Kristi Ann Hunter online at:
Website | Facebook | Instagram | Pinterest | Twitter
About Karen Witemeyer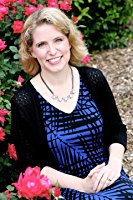 For those who love to smile as they read, bestselling author Karen Witemeyer offers warm-hearted historical romances with a flair of humor, feisty heroines, and swoon-worthy Texas heroes. A transplant from California, Karen came to Texas for college, met a cowboy disguised as a computer nerd, married him, and never left the state that had become home.
Winner of the HOLT Medallion, ACFW Carol Award, Inspirational Reader's Choice Award, National Reader's Choice Award, and a finalist for both the RITA and Christy Awards, Karen is a firm believer in the power of happy endings. . . and ice cream. She also loves to reward her readers. Every month she gives away two inspirational historical novels to someone from her newsletter list and offers substantial bonus content on her website.
Find Karen Witemeyer online at:
About Sarah Loudin Thomas
Sarah Loudin Thomas grew up on a 100-acre farm in French Creek, WV, the seventh generation to live there. Her Christian fiction is set in West Virginia and celebrates the people, the land, and the heritage of Appalachia. Sarah is represented by Wendy Lawton of Books & Such Literary Agency.
Sarah and her husband Jim live in the mountains of Western North Carolina with Thistle–the canine equivalent to a personal trainer pushing them to hike, run, and throw sticks. Sarah is active in her local church and enjoys cooking and–you guessed it–reading.
Find Sarah Loudin Thomas online at:
About Becky Wade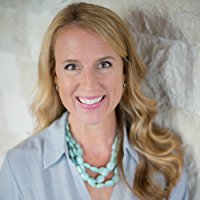 Becky is the Carol and Christy award winning author of heartwarming, humorous, and swoon-worthy contemporary inspirational romances.
During her childhood in California, Becky frequently produced homemade plays starring her sisters, friends, and cousins. These plays almost always featured a heroine, a prince, and a love story with a happy ending. She's been a fan of all things romantic ever since.
These days, you'll find Becky in Dallas, Texas failing to keep up with her housework, trying her best in yoga class, carting her three kids around town, watching TV with her Cavalier spaniel on her lap, hunched over her computer writing, or eating chocolate.
You can find Becky Wade online at:
Website | Facebook | Instagram | Pinterest | Twitter
About The Christmas Heirloom
In Kristi Ann Hunter's "Legacy of Love," Sarah Gooding never suspected returning a brooch to an elderly woman would lead to a job . . . and introduce her to the woman's grandson, a man far above her station.
In Karen Witemeyer's "Gift of the Heart," widow Ruth Albright uses the family brooch as collateral for a loan from the local banker. But the more she comes to know the man behind the stern businessman, the more she hopes for a second chance at love.
In Sarah Loudin Thomas's "A Shot at Love," Fleeta Brady's rough-and-tumble childhood means she prefers hunting to more feminine activities. She never expected her family's brooch might be how a fellow hunter turns her attention from competition to romance.
In Becky Wade's "Because of You," Maddie Winslow has spent years in love with a man whose heart was already spoken for. When a church Christmas project brings them together and she stumbles upon an old family brooch, might it finally be her turn for love?
Find The Christmas Heirloom online at:
Amazon | ChristianBook | Goodreads | Koorong
Read the introduction to The Christmas Heirloom below: