It's Throwback Thursday! Today I'm sharing my review of Miss Serena's Secret, the second book in the Regency Brides: A Promise of Hope series by Carolyn Miller. The final book in the trilogy, The Making of Mrs Hale, is due out this month, and I definitely want to read it!
This review previously appeared at International Christian Fiction Writers.
The title is a little misleading.
Miss Serena actually has several secrets. These combine to persuade her that she will never marry. She will especially not marry a man like her father, a gambler who lost their fortune at the tables. So she is not impressed when she meets gambler and womaniser Lord Henry Carmichael.
This is a sweet and slow love story. It's not the romance novel where we meet the hero and heroine and wham bam they're together. Instead, both characters have plenty of time to get to know each other and to change—to mature into people who are able to fall in love and contemplate marriage.
Miss Serena is an artist, and her art plays a key part in the novel. I'm no painter, but I loved the painting references—the colours, the techniques, and the little upset at the Royal Academy's Summer Exhibition.
Regency romance has had a resurgence of popularity in recent years, but many of the general market novels have a lot of sex and not much Christian faith—which seems at odds with the period. So it's good to see more Regency romance coming out of the Christian market, from authors such as Julie Klaassen, Kristi Ann Hunter, and now Carolyn Miller.
Miss Serena's Secret is Carolyn Miller's fifth novel, and the second in her Regency Brides: A Promise of Hope series. If you've read the others, you'll enjoy catching up with some of the characters from the previous stories. If you haven't, don't worry: this is a standalone novel.
Recommended for Regency romance fans.
Thanks to Kregel Publications and NetGalley for providing a free ebook for review.
About Carolyn Miller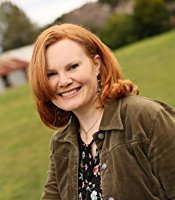 Carolyn Miller lives in the beautiful Southern Highlands of New South Wales, Australia. She is married, with four gorgeous children, who all love to read (and write!).
A longtime lover of Regency romance, Carolyn's novels have won a number of Romance Writers of American (RWA) and American Christian Fiction Writers (ACFW) contests. She is a member of American Christian Fiction Writers and Australasian Christian Writers. Her favourite authors are classics like Jane Austen (of course!), Georgette Heyer, and Agatha Christie, but she also enjoys contemporary authors like Susan May Warren and Becky Wade.
Her stories are fun and witty, yet also deal with real issues, such as dealing with forgiveness, the nature of really loving versus 'true love', and other challenges we all face at different times.
Find Carolyn Miller online at:
Goodreads| Pinterest | Twitter
About Miss Serena's Secret
How can a wounded young woman ever trust a too-flirtatious earl with her heart?
With devastating scars in her past, Serena Winthrop is sure no man can be trusted—especially not a man like the too-smooth Viscount Carmichael. His reputation as a flirt and a gambler is everything she despises. And the young artist makes sure that this disreputable heir to an earldom knows of her deep disapproval whenever they encounter one another.
Henry, Lord Carmichael, is perfectly aware of his charms. He's gambled with plenty of ladies' hearts as easily as he has with their husbands' money. But lately he's wondered if there's more to life—and if his actions might prove unworthy of an admirable wife such as his friends have found.
When Serena's guardian asks his best friend to protect his young ward, Henry promises to be on his best behavior and not woo her. But the more he learns of her, the more he realizes she might be his best reason for changing his character.
Then the lady's art leads her to London infamy. Now Henry must choose between the life mapped out for him as the earl apparent and the love of his life. And Serena's secret may mean the end of his titled family line.
You can find Miss Serena's Secret online at:
Amazon | ChristianBook | Goodreads | Koorong
You can read the introduction to Miss Serena's Secret below: