It's First Line Friday! That means it's time to pick up the nearest book and quote the first line. Today I'm sharing from Pathway to Peace by Elizabeth Maddrey: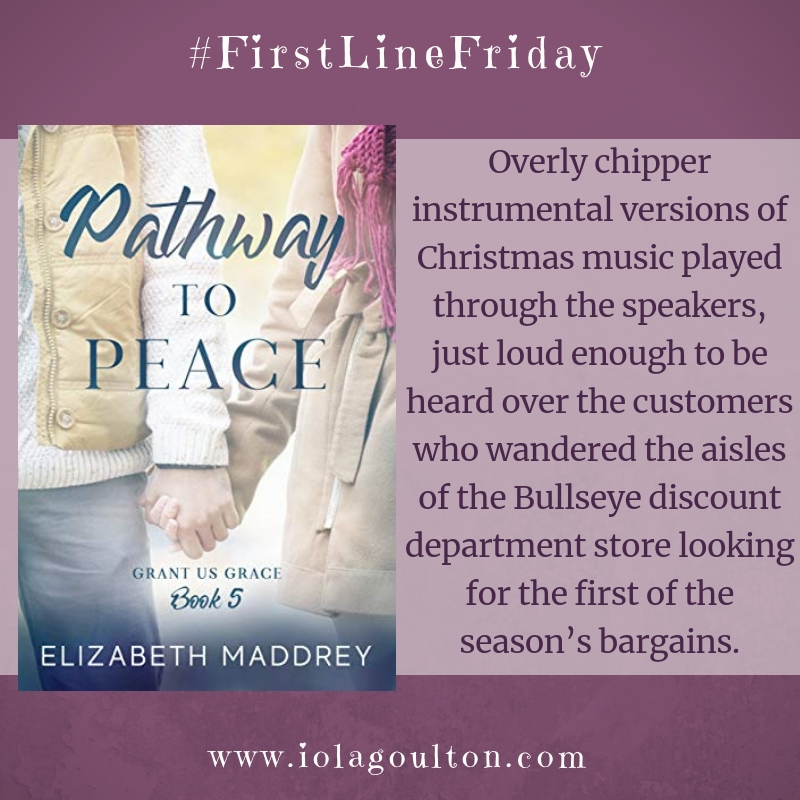 What's the book nearest you, and what's the first line?
About Pathway to Peace
All she wants is to leave her past behind.
Lindsey Bowers has spent five years hiding from her mistakes. She's created a life, such as it is, where few people know about her past. If that means she has to keep people at arm's length, so be it.
Gavin Harder is ready to tackle the future. Newly relocated to the D.C. area, he plans to spend Christmas with his grandmother and get settled before attending the Police Academy in January. He's can't wait to protect and serve with his new brothers in blue.
When Gavin's grandmother invites Lindsey to share Thanksgiving dinner with them, Gavin makes it clear he's not looking for a relationship. But the instant attraction he feels has him rethinking that decision. Before long, attraction turns to friendship with the hope of something more.
If they can move beyond the secrets they're both keeping.
Pathway to Peace is the final installment of the Grant Us Grace series and touches base with now-grown Lindsey, the pregnant teenager who appeared in Courage to Change (Grant Us Grace Book 2). Revisit old friends in this Christmas novella by grabbing your copy today!
You can find Pathway to Peace online at:
Click the button to check out what my fabulous fellow FirstLineFriday bloggers are sharing today:
You can then click the link which will take you to the master page of all this week's #FirstLineFriday posts.
And you can click here to check out my previous FirstLineFriday posts.
Share your first line in the comments, and happy reading!