Yes, I know this week was meant to be my book recommendations for August, but I've got exciting news to share and I couldn't wait a whole week.
I won a 2016 Genesis Award!
Play On, Jordan won the 2016 Genesis Award for unpublished authors from American Christian Fiction Writers in the Novella category!
The results were announced on Saturday night at the ACFW Conference in Nashville, Tennessee. I couldn't be there, so Wellington author Kara Isaac kindly agreed to collect the award on my behalf (which you can see on YouTube at 29:45).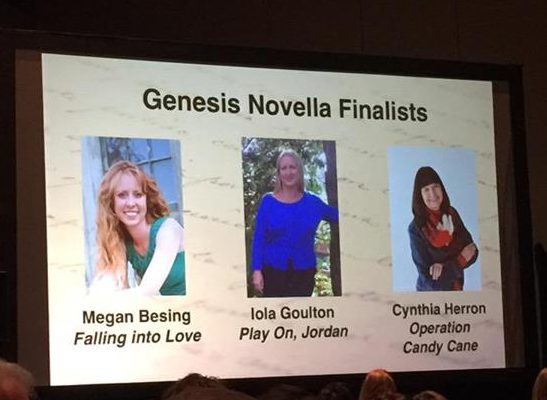 My win was unexpected—I only prepared an acceptance speech because Kara asked me to. I didn't think she'd need to actually read it!
Jebraun Clifford, who currently lives in Rotorua (about an hour from me) won the Young Adult category. Here she is with her plaque: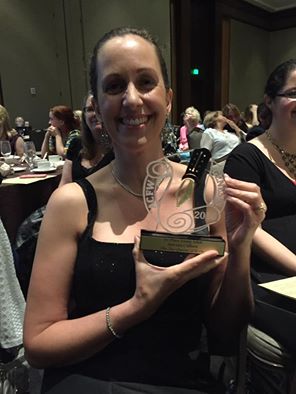 You can find the official list of 2016 Genesis Award winners at the ACFW website.
2016 Carol Award Winners
ACFW also announced the winners of the 2016 Carol Awards, for the best in published fiction across a range of genres. The winners were:
Contemporary:
The Art of Losing Yourself by Katie Ganshert, Waterbrook/Multnomah (Random House)
Historical:
Secrets She Kept by Cathy Gohlke
Historical Romance:
A Worthy Pursuit by Karen Witemeyer
Mystery/Suspense/Thriller:
The Aleppo Code by Terry Brennan
Novella:
A Bride for Bear from The Convenient Bride Collection by Erica Vetsch
Romance:
Crazy Little Thing Called Love by Beth K. Vogt
Romantic Suspense:
No Place to Hide by Lynette Eason
Short Novel:
Covert Justice by Lynn Huggins Blackburn
Speculative:
The Five Times I Met Myself by James L. Rubart
Young Adult:
Dauntless by Dina L. Sleiman, Bethany House
Debut:
The Calling of Ella McFarland by Linda Brooks Davis
More books to add to my to-read pile!
2016 CALEB Prize Finalists
Closer to home, Omega Writers have announced the finalists in the 2016 CALEB Prize. Omega Writers are a group of Australian and New Zealand Christian writers, and I'm a member.
Children's Picture Books
Same – Katrina Roe
The Word War – Mark Hadley
Fearlessly Madison – Penny Reeve
Hey! Is That How God Made Animals? – Penny Morrison
Jesus Walks on Water – Shan Joseph
Published Adult
Zenna Dare – Rosanne Hawke
The Pounamu Prophecy – Cindy Williams
Too Pretty – Andrea Grigg
Invincible – Cecily Paterson
Empires Children – Patricia Weerakoon
Unpublished Manuscripts
The Peacock Stone – Nick Hawkes
The Boy in the Blue Hoodie – Cate McKeowan
Jurisdiction – Joye Alit
The Fraught Ambitions of Man – Rebecca Hayman
10 Things I Hate About God – Susan Barnes
The winners will be announced at the 2016 Omega Writers Conference to be held in Sydney in October 2016. I'm looking forward to attending and cheering for the winners.