It's Throwback Thursday, and today I'm sharing a review that originally appeared at Iola's Christian Reads in September 2015. A Noble Masquerade was Kristi Ann Hunter's debut novel, and it went on to win final in several awards, and won the 2016 Romance Writers of America RITA Award for Inspirational Romance. All were well deserved. I really must read this again!
A Noble Masquerade is Regency romance, my favourite historical period and one that is woefully underrepresented in Christian fiction. It's also got a strong suspense plot, and it's no secret romantic suspense is my favourite genre.
The book is off to a good start …
Lady Miranda Hawthorne might be titled and have been raised to be a lady, but she's not a lady at heart. She has unladylike thoughts and sometimes does unladylike things, and she's currently bemoaning her single state. For years, she's been pouring her unladylike heart out to Marsh, her brother's best friend since his school days. Not that she's ever posted the letters. A single woman writing to a man is most unladylike.
But after one particularly stressful evening, in which Lady Miranda realises her shallow younger sister is going to eclipse her socially once she is "out", Miranda finds herself in conversation with her brother's new valet—his handsome new valet–and writing yet another letter to Marsh. Only the valet finds the letter and posts it, and a week later, Miranda gets a response from Marsh, the mysterious Duke of Marshington who no one has seen for nine long years. Oops.
Things soon get complicated.
Miranda finds herself fighting an attraction to Marlow, completely the wrong man, and getting to know Marsh through his letters … and finding herself attracted to him as well. Then the suspense plot takes hold, and I don't want to say anything more because that would be a spoiler. You'll just have to read it for yourself to find out what happens.
There were times when it didn't seem like A Noble Masquerade was the first novel in the series at all.
It wasn't as though I felt I was missing information, more that it felt like the characters had more history together than I was seeing on the page. When I checked Amazon, I found I was right: Kristi Ann Hunter also has a free prequel novella available, A Lady of Esteem. I obviously downloaded this immediately, and am planning to read it right after I finish this review …
A Noble Masquerade will appeal to fans of historical romance, especially Regency romance. The writing is excellent, with plenty of plot twists and turns, quirky characters and plenty of humour. But it's definitely Christian fiction, and the faith elements are handled especially well. Recommended.
Thanks to Bethany House and Litfuse for providing a free ebook for review.
About Kristi Ann Hunter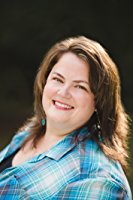 Kristi is the RITA® award winning author of Regency romance novels from a Christian worldview. Her titles include A Noble Masquerade, An Elegant Façade, and An Uncommon Courtship. Beyond writing, she is also speaker, teaching classes in writing as well as Biblical and spiritual topics. She has spoken to writers' groups, schools, and young women's groups at churches.
​When she is not writing or interacting with her readers, Kristi spends time with her family and her church. A graduate of Georgia Tech with a computer science degree, she can also be found fiddling with her computer in her free time. A born lover of stories she is also an avid reader. From very young she dreamed of sharing her own stories with others and praises God daily that she gets to live that dream today.
You can find Kristi Ann Hunter online at:
Website | Facebook | Instagram | Pinterest | Twitter
About A Noble Masquerade
Lady Miranda Hawthorne acts every inch the lady, but inside she longs to be bold and carefree. Entering her fourth Season and approaching spinsterhood in the eyes of society, she pours her innermost feelings out not in a diary but in letters to her brother's old school friend, a duke–with no intention of ever sending these private thoughts to a man she's heard stories about but never met. Meanwhile, she also finds herself intrigued by Marlow, her brother's new valet, and although she may wish to break free of the strictures that bind her, falling in love with a servant is more of a rebellion than she planned.
When Marlow accidentally discovers and mails one of the letters to her unwitting confidant, Miranda is beyond mortified. And even more shocked when the duke returns her note with one of his own that initiates a courtship-by-mail. Insecurity about her lack of suitors shifts into confusion at her growing feelings for two men–one she's never met but whose words deeply resonate with her heart, and one she has come to depend on but whose behavior is more and more suspicious. When it becomes apparent state secrets are at risk and Marlow is right in the thick of the conflict, one thing is certain: Miranda's heart is far from all that's at risk for the Hawthornes and those they love.
You can find A Noble Masquerade online at:
Amazon | ChristianBook | Goodreads | Koorong
Read the introduction to A Noble Masquerade below: