One of the best novels I've read this year
Amazon Description
Can love grow in the shadow of a broken past?
Former bad girl Katie Stone can feel the weight of her reputation settle over her as she drives home for the first time in years. Feeling deeply guilty about her past mistakes, Katie wants to do the right thing for once. But the small town where she grew up is not nearly as forgiving as she'd hoped. Despite it all, she's determined to help her parents cope with her mother's recent illness, and Katie finds a surprise ally in the man next door.
Asher Powell never minded being the son of a small-town pastor until a recent breakup leaves him wounded by lifelong members of his church. He remembers his new neighbor as a mean-spirited high school troublemaker, but he senses that her newfound faith and desire for forgiveness are sincere.
Through an unexpected friendship, two people from different worlds find peace, hope, and a second chance they never dreamed was possible.
My Review
Katie Stone escaped her home town of Fairfield four years ago and has felt guilty ever since. Now her dad needs help with her mother, so she's home again. Reluctantly. Very reluctantly. But she's changed: she's no longer the drug addict who spends more time with her boyfriend than with her family. She's become a Christian … as if anyone in Fairfield is going to believe that.
Once home, she finds her new next door neighbour is Asher Powell. Asher, pastor's son and town good boy, the guy she teased for being so boring all through high school. And she finds her dad's new best friend is her ex-boyfriend, the person she's least in interested in spending time with. Oops.
Asher has his own issues with the church and mistakes and judgement. It's not that he's given up on God. Just the church his dad pastors, the church he's attended all his life.
My Hope Next Door was one of the best Christian novels I've read this year. It had a clear Christian message—a message it delivers as much to the people in the church as outside: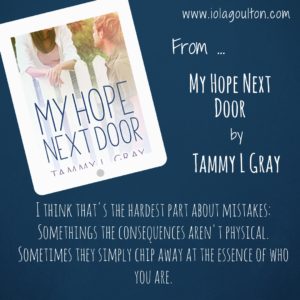 Thanks to Waterfall Press and NetGalley for providing a free ebook for review.