Three more sets of writing awards have been announced this week … so I'm here to share the winners with you.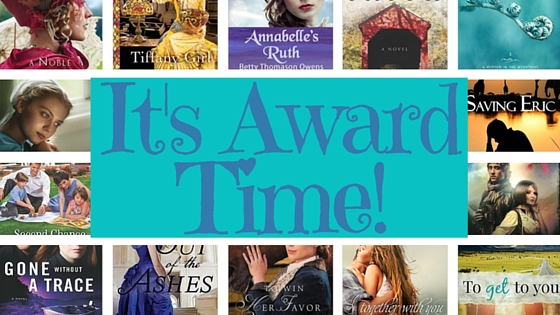 The 2016 RITA® Award Winners
The RITA® Awards are run by Romance Writers of America, and are named after the organisation's first president, Rita Clay Estrada. The Awards are specifically for romance novels, in a range of sub-genres (including Inspirational) and lengths (including long, short and novella).
Inspirational Romance
A Noble Masquerade by Kristi Ann Hunter
Historical Romance – Long
Tiffany Girl by Deeanne Gist (Howard Books)
The 2016 Grace Award Winners
The Grace Awards were established in 2010 to "expand the tent pegs of Christian fiction". They allow traditionally published and self-published novels, and make no distinction between paper or digital formats: anyone can enter, as long as the book is Christian Fiction. The 2016 winners were:
Womens Fiction/General Fiction
Annabelle's Ruth by Betty Thomason Owens
Romance/Historical Romance
Bridge Of Faith by Catherine West
Mystery/Romantic Suspense/Thriller/Historic Suspense
Trial By Twelve by Heather Day Gilbert
Speculative Fiction
Storming by K. M. Weiland
Action-Adventure/Western/Epic Fiction
Saving Eric by Joan Deneve
Young Adult
To Get To You by Joanne Bischof
2016 Inspirational Reader's Choice Award Winners
The IRCA is run by the Faith, Hope and Love Chapter of Romance Writers of America.
Long Contemporary
Together With You by Victoria Bylin
Long Historical
To Win Her Favor by Tamera Alexander
Short Contemporary
Second Chance Reunion by Merrillee Whren
Short Historical
Out of the Ashes by Sandi Rog
Romantic Suspense
Gone Without a Trace by Patricia Bradley
Women's Fiction
Ties That Bind by Cindy Woodsmall
Novella
Daughters of the Wind by DiAnn Mills
Congratulations to all these authors! And a huge thank you to the contest organisers and judges. It's a big job.