It's Christian Fiction Award Time!
It's coming to that time of year again, when the publishing industry seeks to honour the best of the books published in the last calendar year. Entries to the various Christian fiction awards have closed, judging has commenced, and authors are waiting to find out if they've made the longlist or the shortlist or if they've won. I imagine each announcement brings a sense of relief for those authors still in the running for a prize, but also a raised sense of anxiety: so close, and yet so far.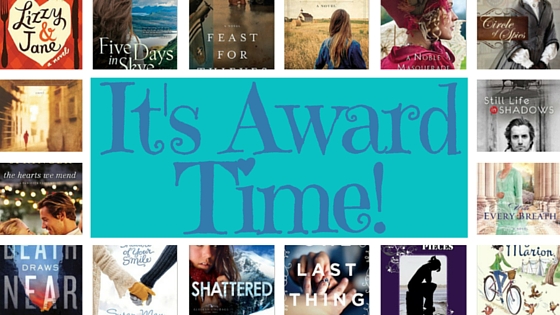 Today I'm going to give you information on the six contests I watch every year. Over the next few weeks I'll introduce you to the finalists in each Award, as they are announced. If you've ever wondered what to read next, these lists will provide some ideas—and you'll see a few of the same titles popping up on several lists.
Introducing the major Christian Fiction Awards
The CALEB Prize
The CALEB Prize is organized by Omega Writers, a writing organization for Australian and New Zealand Christian Writers. Entry is open to Australian and New Zealand authors, and there are two categories for the 2016 prize: fiction, and children's picture books.
CALEB is an acronym: it stands for Christian Authors Lifting Each other's Books. That's why Omega Writers sponsor the CALEB Prize. It's about giving all entrants a higher profile for their books, regardless of whether they win or not . . . Promoting excellence, for the glory of God, so that the highest quality books are given that little bit of extra 'oomph'.
The Christy Awards
The Christy Awards are named for Christy, the groundbreaking novel by Catherine Marshall, who wrote over two dozen books which have sold in excess of 25 million copies. The awards were established in 1999 to honour and promote excellence in Christian fiction, and to showcase the diversity of Christian fiction genres.
The Carol Awards
The Carol Awards were established by American Christian Fiction Writers in 2002 to recognize the best in Christian fiction. Both print and ebooks are accepted, but ebook authors must submit print copies. Novels must be nominated by their authors, must be written from a Christian world view, and may be self-published or traditionally published.
ACFW define "traditionally published" as being where the author did not "participate financially in the production or distribution of their book, including any requirement to buy a certain number of books from their publisher".
Independent authors must apply to ACFW for Qualified Independently Published (QIP) status if they have not previously been traditionally published. In order to achieve QIP status, an author has to show evidence they have earned at least $4,000 from the sale of one novel over a 12-month period.
The Grace Awards
The Grace Awards were established in 2010 to "expand the tent pegs of Christian fiction". They allow traditionally published and self-published novels, and make no distinction between paper or digital formats: anyone can enter, as long as the book is Christian Fiction, and 55,000 words or longer. Novels should be:
Traditional Christian, Inspirational, realistic and/or gritty Christian and edgy Christian, stories from a Christian worldview, redemptive themed, biblical, Messianic, catholic, faith-based, Christian and/or Messianic mystical themes, values imbued, grace and forgiveness oriented, marriage and family friendly, depicting Christian lifestyle (can be struggling with it), spiritually and emotionally healing fiction
The Grace Awards were founded by a group of small-press and independent authors, so they tend to feature a lot of small press and self-published books that are overlooked by the larger industry awards (which didn't necessarily permit entries from these authors and publishers when the Grace Awards were founded).
Their process is unique: readers, reviewers and bloggers nominate titles along with a 40+ words outlining why they like the book. All nominated novels are then put to public vote, and three finalists are chosen for each category. A panel of judges then read the finalists and decide on a winner.
The INSPY Awards
The INPSY Awards were established in 2010, and is described as the Bloggers' Award for Excellence in Faith-Driven Literature. The INSPY Awards are only open to print books from a publishing house (be it a large traditional house, a small press, or a micropress publishing as few as two authors).
The Awards are looking to recognize books of exceptional literary qualities including but not limited to: innovative, original writing, and depth of characterization. The book must respectfully grapple with some element of the Christian faith.
Novels are nominated by readers (self nominations by authors are not permitted). The INSPY Advisory Board (also bloggers) determine a shortlist of five finalists in each category. A team of three blogger judges then choose a winner. Judges are chosen by the Advisory Board from a pool of self-nominated bloggers which makes the INPSY Awards unique, as the creators of the award have limited influence on the overall winners.
The RITA® Awards
The RITA® Awards are run by Romance Writers of America, and are named after the organisation's first president, Rita Clay Estrada. The Awards are specifically for romance novels, in a range of sub-genres (including Inspirational) and lengths (including long, short and novella).
While the RITA® Awards were originally restricted to novels published through a traditional publisher, they now permit self-published novels, and several categories feature self-published or hybrid authors (being authors who have both self-published and been published by a traditional publisher).
Books are nominated by their author or publisher, and nominated authors act as first-round judges (not in their own category, of course). All novels achieving higher than a specific score are announced as finalist, which is unusual—most contests have a set number of finalists (usually three or five), and the top-scoring novels qualify. The RITA® approach caused problems one year, when one category had more than ten finalists and two others (Inspirational and Erotic) had only two each.
I'll be back next week with the finalists for the Grace and RITA® Awards, and we can talk about our picks for each.