When Cassie Jacobs drowned, she left behind a lot of messed-up people blaming themselves for her death.
Ten years later, people are pretending they've moved on. Cassie's mother has organised a memorial party. Her father is withdrawn. Her brother owns an adventure tourism business. One of Cassie's best friends getting married. Another is on the verge of a career breakthrough … if only she can open herself up to feeling emotion again.
Things Left Unsaid is one of those novels with a slow build. We're introduced to each of the characters and their somewhat petty present-day problems (many of which are caused by the interfering Nora, Elle's future mother-in-law). But as the plot develops and we get to know each of the characters, we start seeing beyond the petty and into their hearts as Walsh takes us into the hidden places and we see the hurts and where they've come from.
And that's neither petty nor pretty. But it is powerful. And it's worth reading.
But, as I said, the novel has a slow build. The first quarter feels almost confusing as it changes point of view often: Lyndie, Elle, Karen, Tucker. The story settles into itself in the next quarter, but it still feels like it's lacking something. It's lacking emotion, but that's deliberate: all the characters are holding back emotionally, and that comes through in the writing.
The novel really comes into itself in the final quarter.
Secrets are acknowledged, things once left unsaid are said, and the emotion arrives like a roller coaster on that final downward swoop. Things Left Unsaid definitely hits all the right spots for a contemporary Christian romance with a side of real life.
Recommended for fans of authors like Robin Lee Hatcher, Denise Hunter, Kara Isaac, Amy Matayo, and Becky Wade.
Thanks to Waterfall Press and NetGalley for providing a free ebook for review.
About the Author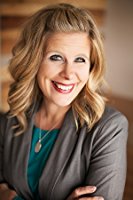 Courtney Walsh is a novelist, artist, theater director, and playwright. Change of Heart is her fifth novel and is set in the same town as Paper Hearts. Her debut novel, A Sweethaven Summer, hit the New York Times and USA Today e-book bestseller lists and was a Carol Award finalist in the debut author category. She has written two additional books in the Sweethaven series, as well as two craft books and several full-length musicals. Courtney lives in Illinois where she and her husband own a performing and visual arts studio. They have three children.
Find Courtney Walsh online at …
Website | Facebook | Instagram | Pinterest | Twitter | Goodreads
About Things Left Unsaid
An emotional novel of family, friendship and forgiveness from Courtney Walsh, the New York Times bestselling author of Hometown Girl.
Lyndie St. James is thrilled that her best friend, Elle, is getting married but unprepared for the emotional storm of the wedding week and returning to her childhood summer home of Sweethaven. The idyllic cottage community harbors some of her best—and worst—memories. It's not only the tragic death of her childhood friend Cassie that has haunted her for ten years, it's the other secrets she's buried that have kept her from moving on.
But Lyndie isn't the only one with secrets.
Cassie's mother, father and brother, still struggling with the loss, have been drifting further and further apart. And Elle herself, the last to see Cassie alive, carries an impossible burden of guilt. Now reunited, each of them has a choice: to reveal the truths of that night or continue to live in its shadow. That means embarking on a personal journey of the heart—to escape the darkness and all its regrets and to finally come to terms with the past and, especially, with each other.
Find Things Left Unsaid online at:
Amazon | ChristianBook | Goodreads