Grady Benson is a big-name big-ego Olympic skier who has landed in the small tourist town of Harbor Pointe, Michigan … and finds himself staying longer than planned after an unfortunate run-in with the law. Now he's stuck in town paying his debt to society with various do-good community service projects when he should be on the slopes, qualifying for the next Olympics.
Quinn Collins is the small-town girl who's never gone anywhere, and tells herself she doesn't want to. What she wants is to win Best Design at the upcoming Michigan Floral Expo, in the hope that a win will enable her to reconnect with her mother—the mother who deserted her family years ago.
I have to say that I didn't like either character at the beginning of the book.
Grady was too full of himself, and I didn't understand Quinn's obsession with reconnecting with a mother who abandoned her husband and two small daughters. First, has she never heard of Facebook? Second, many parents have days when they want to abandon their families (or is that just me?). It's a test of character that we don't.
Both characters changes and grow as the novel progresses, but it was Grady's change that most impressed me. By the end of the story I was half in love with him myself, and he'd almost converted me to skiing (I like the concept, but I can no longer deal with the cold). Anyway, Grady's redemption was definitely the high point of the story.
The writing was excellent, with many quotable lines.
Just Let Go follows Just Look Up in the Harbor Pointe series, but can easily be read as a standalone.
Thanks to Tyndale House and NetGalley for providing a free ebook for review.
About the Author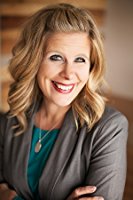 Courtney Walsh is a novelist, artist, theater director, and playwright. Change of Heart is her fifth novel and is set in the same town as Paper Hearts. Her debut novel, A Sweethaven Summer, hit the New York Times and USA Today e-book bestseller lists and was a Carol Award finalist in the debut author category. She has written two additional books in the Sweethaven series, as well as two craft books and several full-length musicals. Courtney lives in Illinois where she and her husband own a performing and visual arts studio. They have three children.
Find Courtney Walsh online at …
Website | Facebook | Instagram | Pinterest | Twitter | Goodreads
About the Book
For Quinn Collins, buying the flower shop in downtown Harbor Pointe fulfills a childhood dream, but also gives her the chance to stick it to her mom, who owned the store before skipping town twenty years ago and never looking back. Completing much-needed renovations, however, while also competing for a prestigious flower competition with her mother as the head judge, soon has Quinn in over her head. Not that she'd ever ask for help.
Luckily, she may not need to. Quinn's father and his meddling friends find the perfect solution in notorious Olympic skier Grady Benson, who had only planned on passing through the old-fashioned lakeside town. But when a heated confrontation leads to property damage, helping Quinn as a community-service sentence seems like the quickest way out—and the best way to avoid more negative press.
Quinn finds Grady reckless and entitled; he thinks she's uptight and too regimented. Yet as the two begin to hammer and saw, Quinn sees glimpses of the vulnerability behind the bravado, and Grady learns from her passion and determination, qualities he seems to have lost along the way. But when a well-intentioned omission has devastating consequences, Grady finds himself cast out of town—and Quinn's life—possibly forever. Forced to face the hurt holding her back, Quinn must finally let go or risk missing out on the adventure of a lifetime.
Find Just Let Go online at:
Amazon | ChristianBook | Goodreads | Koorong
You can read the introduction online below: