It's Throwback Thursday! Today I'm resharing my review of The Saturday Night Supper Club by Carla Laureano. The sequel, Brunch at the Bittersweet Cafe, releases this week, and I'm looking forward to reading it soon.
Wonderful!
If you ask readers what plot points or ideas they don't like in novels, there is always one that comes up: the impossibly good-looking hero or heroine. Others dislike too-rich heroes. Or writers. Or all of the above. I confess: I'm one of them. I especially don't like the impossibly handsome rich writer (except for Richard Castle, but we all know he's a joke).
The Saturday Night Supper Club has all these things (except for Richard Castle.) Despite that, it's a great read—almost perfect contemporary Christian romance. It's also a lesson in the power of the media—especially social media—to work for good and for evil.
And the food … I wanted it all. Well, except the chard. And the fennel. It was a weed where I grew up, and we were all told not to eat it.
Anyway, about the book …
Rachel Bishop is the darling of the Denver casual fine dining scene until a misplaced comment to the wrong person goes viral. Writer Alex Kanin unintentionally started the whole media firestorm, but doesn't realise the full extent of the repercussions until he tries to apologise to Rachel, and finds his article has cost Rachel her job.
Yes, he's the impossibly handsome writer whose debut memoir jumped to the top of all the right bestseller lists. He's also rich, thanks to a couple of timely investments, and grew up in a well-off immigrant family. In contrast, Rachel left home without graduating high school, and has risen to the top of her profession through hard work and determination.
The Saturday Night Supper Club is the story of how Alex and Rachel work together to try and resurrect her career.
It's a romance, so you know how that goes. It also has a solid Christian thread, in that both Rachel and Alex are Christians, and each has lessons to learn about the nature of God. But it's not preachy, which is great.
Overall, The Saturday Night Supper Club is a great contemporary Christian romance, with wonderful characters, and wonderful food. I do hope there are a couple of sequels in the works!
Thanks to Tyndale Publishing and NetGalley for providing a free ebook for review.
About Carla Laureano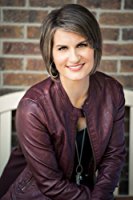 Carla Laureano is the RITA® Award-winning author of contemporary inspirational romance and Celtic fantasy (as C.E. Laureano). A graduate of Pepperdine University, she worked as a sales and marketing executive for nearly a decade before leaving corporate life behind to write fiction full-time. She currently lives in Denver with her husband and two sons, where she writes during the day and cooks things at night.
You can find Carla Laureano online at:
Website | Facebook | Instagram | Twitter
About The Saturday Night Supper Club
Denver chef Rachel Bishop has accomplished everything she's dreamed and some things she never dared hope, like winning a James Beard Award and heading up her own fine-dining restaurant. But when a targeted smear campaign causes her to be pushed out of the business by her partners, she vows to do whatever it takes to get her life back . . . even if that means joining forces with the man who inadvertently set the disaster in motion.
Essayist Alex Kanin never imagined his pointed editorial would go viral. Ironically, his attempt to highlight the pitfalls of online criticism has the opposite effect: it revives his own flagging career by destroying that of a perfect stranger. Plagued by guilt-fueled writer's block, Alex vows to do whatever he can to repair the damage. He just doesn't expect his interest in the beautiful chef to turn personal.
Alex agrees to help rebuild Rachel's tarnished image by offering his connections and his home to host an exclusive pop-up dinner party targeted to Denver's most influential citizens: the Saturday Night Supper Club. As they work together to make the project a success, Rachel begins to realize Alex is not the unfeeling opportunist she once thought he was, and that perhaps there's life—and love—outside the pressure-cooker of her chosen career. But can she give up her lifelong goals without losing her identity as well?
You can find The Saturday Night Supper Club online at:
Amazon | ChristianBook | Goodreads | Koorong
You can read the introduction to The Saturday Night Supper Club Below:
Click here to check out The Saturday Night Supper Club and other great Christian fiction at my Amazon shop!