It's First Line Friday! That means it's time to pick up the nearest book and quote the first line. Today I'm sharing from Romancing the Bride by Melissa Jagears: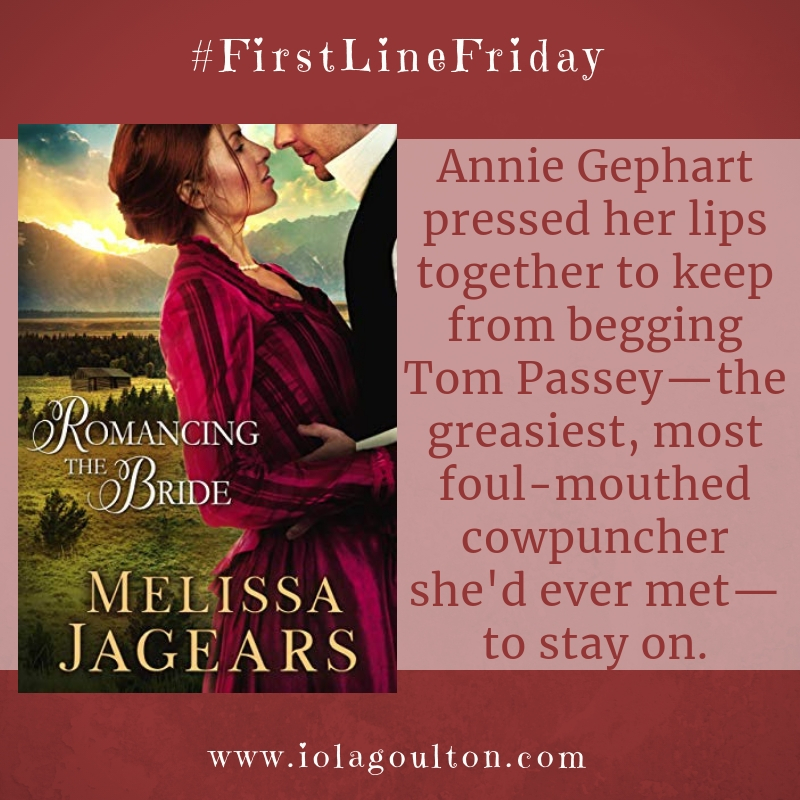 What's the book nearest you, and what's the first line?
About Romancing the Bride
Marrying a stranger to save a ranch is one thing; losing the land on their wedding day is another.
Desperate to keep the ranch where three of her children and a husband lie buried, Annie Gephart must marry or sell. Which of the few bachelors in town would consider a surprise proposal to wed a plain widow with a rebellious daughter, a spirited boy, and unpaid taxes—without laughing in her face?
Jacob Hendrix has never fully let go of his ranching dreams despite ending up as a small Wyoming town's marshal. The job wouldn't be so bad, except he's more errand boy than lawman. When Annie proposes marriage without a single coquettish bat of an eyelash, can he commit himself to a woman he hardly knows for a choice piece of property he'd be an idiot to pass up?
But taxes aren't all that threaten Annie and Jacob's plans. Cattle rustlers, crumbling friendships, and wayward children make this marriage of convenience anything but. When they lose what they've sacrificed everything to save, will the love of a stranger be enough?
You can find Romancing the Bride online at:
Click the button to check out what my fabulous fellow FirstLineFriday bloggers are sharing today:
You can then click the link which will take you to the master page of all this week's #FirstLineFriday posts.
And you can click here to check out my previous FirstLineFriday posts.
Share your first line in the comments, and happy reading!