A Chance at Forever is the third (and hopefully not last) novel in The Teaville Moral Society series.
It follows A Heart Most Certain and A Love So True. There have also been two novellas in the series, With This Ring (which I haven't read), and Tied and True (which I have). But A Chance at Forever is a standalone novel, and you don't need to have read the earlier books to enjoy this. (But you should read them anyway.)
It's been six years since school bully George Firebrook left Teaville. Now he's back in town as Aaron Firebrook, aspiring math teacher. But Mercy McClain is in the school board, the same Mercy McClain he teased mercilessly for having only one arm … and for always being happy in spite of her disability. That's part of why he's returned, to try and make up for the sins of his childhood. Now he has to convince people he has changed, and that's going to start with Mercy.
Mercy McClain knows she'll never marry and have children.
Her disability has seen to that. But she can still love the children in her care and make sure they aren't bullied the way she was as a child. And she's not convinced George Aaron Firebrook has changed from the bully she knew. She's not pleased when he's hired as the orphanage gardener. She's gradually swayed by his work ethic and his obvious concern for the children, especially for Jimmy the troublemaker, and Owen.
Mercy is a great heroine. She's got issues, but she's also got a strong sense of self and she's not willing to let anyone present the orphans with less than ideal role models. That places her in an awkward situation when she realises Aaron isn't her biggest problem, and that speaking out might cost her.
Aaron is a strong hero. He was a bully as a schoolboy, but he's a Christian now and trying to make amends. There are also reasons why he was a bully. This explains why he wants to make sure other Teaville children don't face the same problems. So the job at the orphanage is perfect, even if Mercy would rather he wasn't there. But the path of true love doesn't run smooth, and first Aaron has to deal with bumps in the path like Owen and Jimmy.
I know I'm usually a contemporary Christian romance fan. But A Chance at Forever (and the other Teaville Moral Society stories) are the best kind of historical romance. I love the way the series uses historical settings to address some very modern issues. How do we, as Christians, deal with the less desireable members of society? The alcoholics, the drug addicts, the prostitutes, the homeless? How do we deal with that? Jagears has some ideas: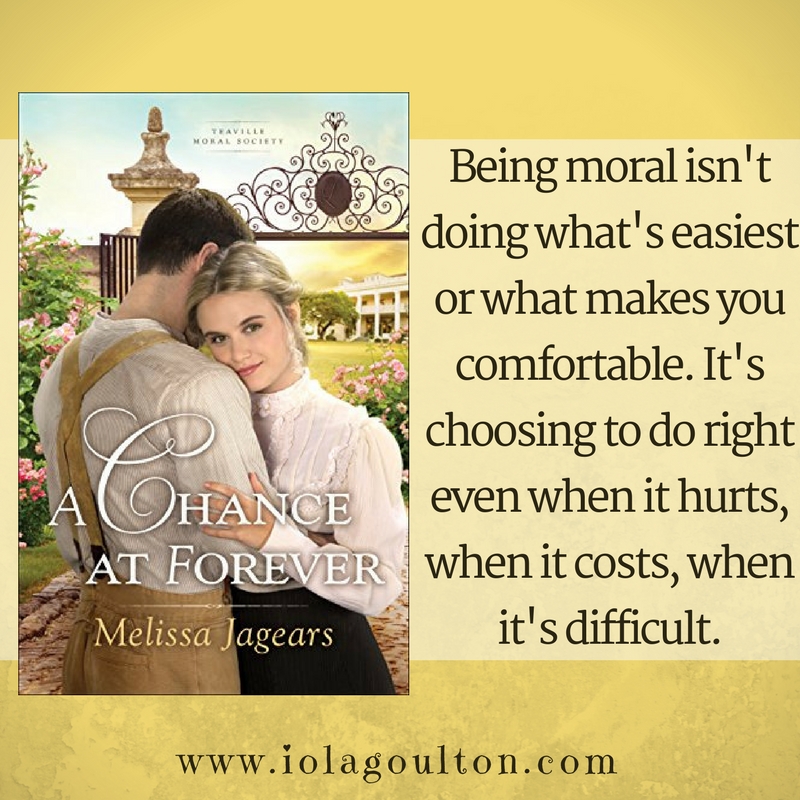 She also isn't afraid to identify the problem: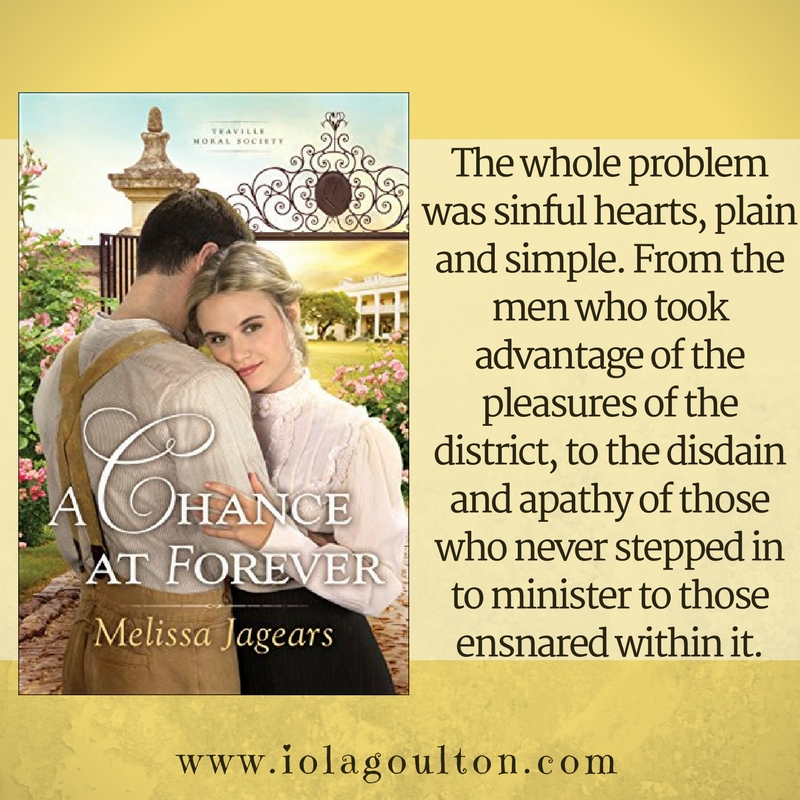 This is the problem highlighted by the #MeToo movement. It's just framed a little differently.
See what I mean about historical fiction being an excellent vehicle for highlighting present-day problems?
As you've probably guessed, I thought everything about A Chance at Forever was outstanding—the plot, the characters, the writing, and the Christian message. Recommended for all Christian fiction readers.
Thanks to Bethany House and NetGalley for providing a free ebook for review.
About Melissa Jagears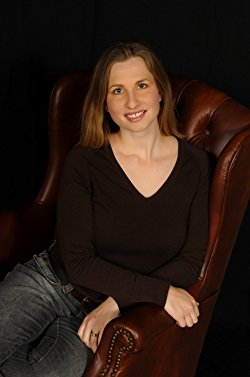 I stay home with my kids, and though that's PLENTY to do, I added homeschooling and writing to my schedule too!
My husband and I have been married since 2001 and have a daughter and two sons. I'm a former high school ESL teacher and an avid book reader. If you don't believe me, come peruse the 16 bookshelves in my house. The only reason I don't have more is because my husband is convinced he can hear the house's foundation groaning.
He only claims one of those bookshelves which is full of how-to manuals because he loves blacksmithing, knife smithing, traditional archery, hunting, etc. Generally whatever a mountain man does, he's done or wants to do. He and his one lonely bookshelf often come in handy for research.
My daughter is also an avid reader who owns the book shelf chair, is a lover of famous art, and wants to be a fashion designer. My middle son builds and creates all day long, his creations are mostly knives and swords since he wants to be a knifesmith like his daddy. And my youngest is the quietest of the bunch. At the moment, he self-identifies as a cat. A black one. He answers in meows.
A pronunciation lesson for the curious: Jagears sounds like /Jag – ers/, like Mick Jagger with an S.
You can find Melissa Jagears online at:
Website | Facebook | Pinterest | Twitter
About A Chance at Forever
In early 1900s Kansas, Mercy McClain, determined to protect Teaville's children from the bullying she experienced as a child, finds fulfillment working at the local orphanage and serving on the school board. When Aaron Firebrook, the classmate who bothered her more than any other, petitions the board for a teaching position, she's dead set against him getting the job.
Aaron knows he deserves every bit of Mercy's mistrust, but he's returned to his hometown a changed man and is seeking to earn forgiveness of those he wronged. He doesn't expect Mercy to like him, but surely he can prove he now has the best interests of the children at heart.
Will resentment and old wounds hold them back, or can Mercy and Aaron put the past behind them in time to face the unexpected threats to everything they're working for?
You can find A Chance at Forever online at:
Amazon | ChristianBook | Goodreads | Koorong
You can read the introduction to A Chance at Forever below: