It's Throwback Thursday! Today I'm resharing my review of A Heart Most Certain by Melissa Jagears, first in the Teaville Moral Society series. Melissa has just released the first book in her new series, Romancing the Bride, and I'll be highlighting that tomorrow in my First Line Friday post.
A Heart Most Certain shows Melissa Jagears to be a fresh voice in historical romance (even if the title does sound more Siri Mitchell).
Everything about A Heart Most Certain impressed me.
The writing was excellent, there was a clear and challenging Christian message, the plot was solid with plenty of twists and turns, and just enough predictability (hey, this is romance! There are some aspects we want to be predictable).
And both lead characters were excellent—an intelligent heroine who wasn't afraid to ask hard questions, and a truly heroic hero (okay, he might have been a bit too perfect. But that's the closest I can get to a criticism about A Heart Most Certain).
Lydia and Nicholas are both excellent characters—complete opposites, so of course we know they are both going to have to change their views. The setting was portrayed well, both in terms of time and place—and reinforced why I'm glad I live now, not then. It's also an example of how historical fiction can shine a light into some of our more modern social problems. We can be thankful for the truth of Nicolas's words in the quote above.
We might not treat "sinners" in the same judgmental way as Mrs Light's Teaville Ladies Moral Society does, but we still have to guard against turning our faith into a religion of rules. Melissa Jagears is to be commended for not shying away from difficult subjects like prostitution, but showing a proper Christian response to the problem.
Recommended for fans of Francine Rivers, Karen Witemeyer, and Dawn Crandall.
Thanks to Bethany House and NetGalley for providing a free book for review.
About Melissa Jagears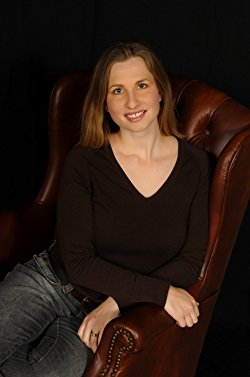 I stay home with my kids, and though that's PLENTY to do, I added homeschooling and writing to my schedule too!
My husband and I have been married since 2001 and have a daughter and two sons. I'm a former high school ESL teacher and an avid book reader. If you don't believe me, come peruse the 16 bookshelves in my house. The only reason I don't have more is because my husband is convinced he can hear the house's foundation groaning.
He only claims one of those bookshelves which is full of how-to manuals because he loves blacksmithing, knife smithing, traditional archery, hunting, etc. Generally whatever a mountain man does, he's done or wants to do. He and his one lonely bookshelf often come in handy for research.
My daughter is also an avid reader who owns the book shelf chair, is a lover of famous art, and wants to be a fashion designer. My middle son builds and creates all day long, his creations are mostly knives and swords since he wants to be a knifesmith like his daddy. And my youngest is the quietest of the bunch. At the moment, he self-identifies as a cat. A black one. He answers in meows.
A pronunciation lesson for the curious: Jagears sounds like /Jag – ers/, like Mick Jagger with an S.
You can find Melissa Jagears online at:
Website | Facebook | Pinterest | Twitter
About A Heart Most Certain
A Fresh Voice in Historical Romance!
Lydia King knows what it's like to be in need, so when she joins the Teaville Moral Society, she genuinely hopes to help the town's poor. But with her father's debts increasing by the day and her mother growing sicker by the week, she wonders how long it will be until she ends up in the poor house herself. Her best chance at a financially secure future is to impress the politician courting her, and it certainly doesn't hurt that the moral society's president is her suitor's mother. Her first task as a moral society member–to obtain a donation from Nicholas Lowe, the wealthiest man in town–should be easy . . . except he flat-out refuses.
Despite appearances, Nicholas wants to help others but prefers to do it his own way, keeping his charity private. When Lydia proves persistent, they agree to a bargain, though Nicholas has a few surprises up his sleeve. Neither foresee the harrowing complications that will arise from working together. When town secrets are brought to light, this unlikely pair must decide where their beliefs–and hearts–truly align.
You can find A Heart Most Certain online at:
Amazon | ChristianBook | Goodreads | Koorong
You can read the introduction to A Heart Most Certain below: