It's Throwback Thursday! Today I'm resharing my review of Five Days in Skye, the debut novel from Carla Laureano. It's being republished this week, with a beautiful new cover (and I'm hoping this time around we'll get all three books in the trilogy!).
Romance in Scotland: What more could you want?
Andrea Sullivan may have sabotaged her career with that last potential client. Now, as punishment, she has to convince TV chef James MacDonald, owner of three Michelin-starred London restaurants, that her company is perfect to help him renovate and market the family hotel he has inherited on the Isle of Skye. She has just a few days, and her job is on the line.
There is an immediate attraction when Andrea and James meet, but Andrea wants nothing to do with men, and especially wants nothing to do with a client. James has his own problematic romantic history, not to mention an even more problematic relationship with his brother, who owns one-third of the hotel.
I found all the characters to be intelligent and likeable, and I was especially impressed by the research. I've not been to Skye but I've lived in London and visited Scotland, and Five Days in Skye made me feel I was there. I had to laugh Andrea's reaction to James calling her 'love'. It's a common term, particularly in the hospitality industry.
Right, love?
This is a Christian novel, but the Christian element is somewhat understated. Both Andrea and James come from rural backgrounds where the Christian faith was an integral part of the family. But both have abandoned that faith, yet realise on Skye that perhaps they need to pursue God once more.
Five Days in Skye has it all: an excellent opening, a funny first meeting between Andrea and James, intelligent lead characters who are both successes in their chosen careers, excellent attention to detail, and the Isle of Skye, a beautiful and unique setting. And the last line is a beautiful illustration of the eternal romance between us and God. Recommended for romance lovers.
Thanks to David C Cook and NetGalley for providing a free ebook for review. You can find out more about Carla Laureano at her website, and you can
About Carla Laureano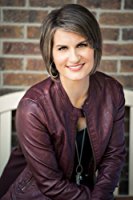 Carla Laureano is the RITA® Award-winning author of contemporary inspirational romance and Celtic fantasy (as C.E. Laureano). A graduate of Pepperdine University, she worked as a sales and marketing executive for nearly a decade before leaving corporate life behind to write fiction full-time. She currently lives in Denver with her husband and two sons, where she writes during the day and cooks things at night.
You can find Carla Laureano online at:
Website | Facebook | Instagram | Twitter
About Five Days in Skye
Andrea Sullivan is so consumed by her hospitality-consultant job that she's forgotten what brings her joy. She dreads her new assignment—a last chance to snag a high-profile client in Scotland. Yet the lush Isle of Skye transcends her preconceptions. As does the man she must impress, the rugged, blue-eyed Scotsman James MacDonald.
He's passionate about cooking, but after six restaurants, four cookbooks, and his own television show, he's grown weary of the scrutiny that comes with living in the public eye.
Soon Andrea and James begin to sense these five days in Skye together may just be God's wild invitation into deeper life . . . and truer love.
Find Five Days in Skye online at:
Amazon | ChristianBook | Goodreads | Koorong
Read the introduction here: