It's First Line Friday! That means it's time to pick up the nearest book and quote the first line. Today I'm sharing from Five Days in Skye by Carla Laureano, which releases next week. Actually, it re-releases next week, with a fabulous new cover. But I'm sharing the first line from the original 2015 edition, and hoping it hasn't changed (because it's a good one!).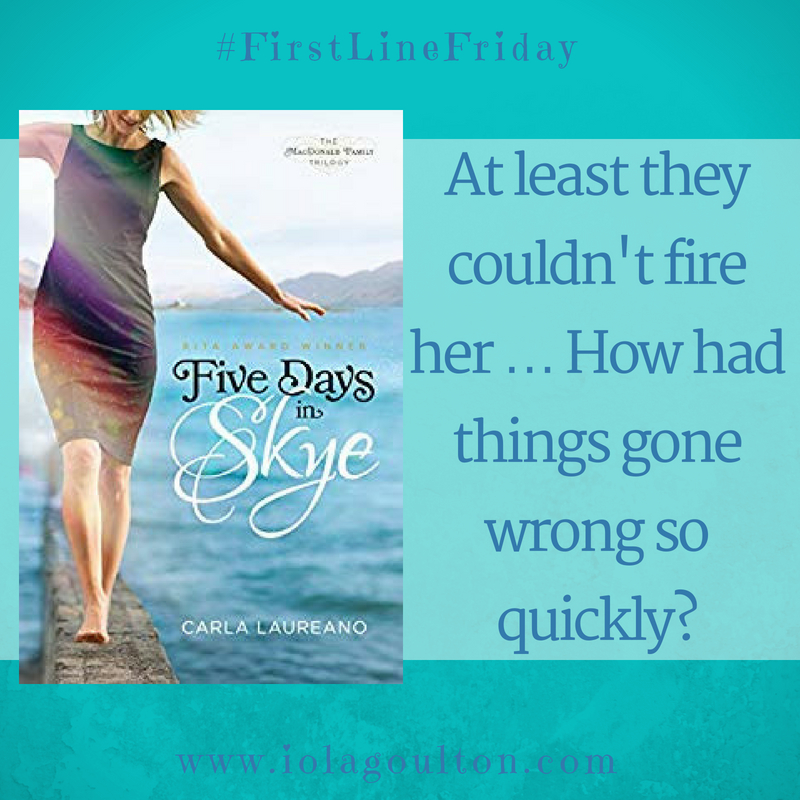 Have you read Five Days in Skye or the sequel, London Tides? I loved them both, and now I'm waiting for the third book in the series. Unfortunately, I think I have to wait until 2020!
What's the book nearest you, and what's the first line?
You can find Carla Laureano online at:
Website | Facebook | Instagram | Twitter
About Five Days in Skye
Andrea Sullivan is so consumed by her hospitality-consultant job that she's forgotten what brings her joy. She dreads her new assignment—a last chance to snag a high-profile client in Scotland. Yet the lush Isle of Skye transcends her preconceptions. As does the man she must impress, the rugged, blue-eyed Scotsman James MacDonald.
He's passionate about cooking, but after six restaurants, four cookbooks, and his own television show, he's grown weary of the scrutiny that comes with living in the public eye.
Soon Andrea and James begin to sense these five days in Skye together may just be God's wild invitation into deeper life . . . and truer love.
Find Five Days in Skye online at:
Amazon | ChristianBook | Goodreads | Koorong
Click the button to check out what my fabulous fellow FirstLineFriday bloggers are sharing today:
You can then click the link which will take you to the master page of all this week's #FirstLineFriday posts.
And you can click here to check out my previous FirstLineFriday posts.
Share your first line in the comments, and happy reading!