Ruth Ann Sutton is the slightly plump and more than slightly opinionated teacher at the Catoctin Creek Freedmens School … much to the disgust of her mother, her beau, and his family. Although she's not sure she wants to be the beau and future wife of a man who insists she gives up the work, and who assumes she's going to marry him without having asked.
Benjamin Coulter is a railway man, in Catoctin Creek to survey the next stage of the tracks. He meets Ruth Ann, and is immediately attracted to her (although not to her singing). But the course of true love never does run smooth, and he has to battle his own feelings of inadequacy, her family's attitude to him as a working man from a dubious background, and the possible competition with another beau.
I liked Ruth Ann.
She had a strong Christian faith and believed in freedom and equality of men and women, black and white. But she has an opinionated mother who has her own ideas of what's best for Ruth Ann.
Ruth Ann and Benjamin meet and quickly form an attachment. In a way this was too quick, as it left me wondering what was going to happen in the second half. The second half started with a bang, but then petered out when what felt like the climax hit too early.
This was partly about Ben.
He was the perfect gentleman and perfect beau in the first half of the book, once he'd become a Christian. But something happened early in the second half that I found it difficult to forgive him for, especially as he never seemed truly repentant. He seemed more sorry he'd been caught and sorry for what he'd lost than sorry for what he'd done.
Yes, I know Ben was a new Christian. I know that as Christians we are called to forgive those who have wronged us whether they are repentant or not. Ruth Ann knows this as well. She forgives him, but points out that forgiving him wasn't the same as trusting him. I thought that was a strong lesson in forgiveness. We are called to forgive, but that doesn't mean we put ourselves at risk again in future.
All is well by the end.
But it didn't ring true for me—neither Ben's actions, or Ruth Ann's changed attitude. It all seemed convenient to the point of contrived. I wasn't convinced this was a happy ever after ending … a problem for a romance novel. The overall result was that the last section of A Love Restored didn't hold my interest as much as the first.
Despite its faults, A Love Restored had a good premise, solid writing, and a Christian message about the importance of forgiveness. I'll be interested to see what Kelly J Goshorn produces next.
Thanks to the author for providing a free ebook for review.
About Kelly J Gorshon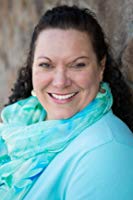 Kelly Goshorn weaves her affinity for history and her passion for God into uplifting stories of love, faith and family set in nineteenth century America. Kelly earned a B.A. in Social Studies Education from Messiah College and an M.Ed. in History Education from The Pennsylvania State University. She is a member of American Christian Fiction Writers and Romance Writers of America. Her debut novel, A Love Restored, received recognition as the winner of the 2015 COTT Olympia Contest and as a semi-finalist in the 2015 ACFW Genesis contest.
Kelly has been enjoying her own happily-ever-after with her husband and best friend, Mike, for 28 years. Together they have raised three children, four cats, two dogs, a turtle, a guinea pig, a gecko, and countless hamsters. Thankfully not all at the same time. When she is not writing, Kelly enjoys spending time with her young adult children, scrapbooking with friends, board gaming with her husband, and spoiling her Welsh corgi, Levi.
Find Kelly J Gorshon online at:
Website | Facebook | Instagram | Pinterest | Twitter
About A Love Restored
With pert opinions and a less-than-perfect figure, Ruth Ann Sutton doesn't measure up to Society's vision of a perfect lady. When she accepts a position teaching in a Freedman's School, it threatens the only marriage offer Ruth Ann is likely to receive. She's forced to choose between life as a lonely spinster or reinventing herself to secure a respectable proposal. Determined to rise above his meager beginnings, Benjamin Coulter's reputation as a fast learner and hard worker earns him the opportunity to apprentice with a surveyor for the railroad—a position that will garner the respect he craves. After a chance encounter with Ruth Ann Sutton, Benjamin is smitten with her pretty face, quick wit, and feisty personality. When others ridicule his choice, will Benjamin listen to his heart or put ambition first?
Find A Love Restored online at: