It's #Throwback Thursday! Today I'm sharing my review of Blue Ridge Sunrise by Denise Hunter, first in the Blue Ridge Romance series. The sequel, Honeysuckle Dreams, was published this week.
About Blue Ridge Sunrise
Former free spirit Zoe Collins swore she'd never again set foot in Copper Creek or speak to the man who broke her heart. But return she must when her beloved Granny dies, leaving the family legacy to Zoe—a peach orchard nestled at the base of the Blue Ridge Mountains.
When Zoe returns home with her daughter and boyfriend Kyle, she finds that she's the only person in town who doesn't expect her to give up the life she's established far away from Copper Creek. Everyone believes she was born to run the orchard, but how can she make it her home after so many years?
Cruz Huntley never quite got over his first love, Zoe Collins, the little sister of his best friend Brady. Not when she cheated on him during their "break," not when she took off to parts unknown with good-for-nothing Kyle Jenkins, and not even now—five years later.
As life-changing decisions and a history with Cruz hang over Zoe's head, tensions rise between her and Kyle. Even as she comes to terms with the shifting relationships in her life, Zoe still isn't sure if she can remain in Copper Creek with her new responsibilities . . . and her first love.
You can find Blue Ridge Sunrise online at:
Amazon US | Amazon AU | Amazon UK
ChristianBook | GoodReads | Koorong
My Review
Zoe Collins is back in Copper Creek for her grandmother's funeral, accompanied by her musician boyfriend and four-year-old daughter. She's only planned to stay the day—she and Kyle have to get back to Nashville for a concert, and she has no desire to reconnect with her father. But her plans change when she finds out she's inherited Granny's peach orchard, the only place she's felt at home since her mother died.
What no one has told her in the five years she's been away is that the orchard manager is Cruz Huntley, her first love and Gracie's father. Now the two are thrown together as Zoe tries to save her family orchard, against the advice of everyone else—especially Kyle, and her father. And it seems someone is prepared to do more than tell her running the orchard is a stupid idea.
Someone seems prepared to go to great lengths to ensure she gives up and goes back to Nashville.
Zoe and Cruz were both great characters, and I wanted them to get back together right from the start. It was good to see a romance where the couple isn't apart for the whole novel. I think that's why I like romantic suspense, because of the way the external suspense plot serves to both bring the characters together and keep them apart. Blue Ridge Sunrise did a great job in this regard.
There were lots of great lines. Unfortunately, I can't share most of them because they might give something important away (although I did share the opening line last week as part of #FirstLineFriday). Let's just say the writing is excellent, and there are many nuggets of truth hidden in Blue Ridge Sunrise. Like this line at the top of this post.
The other thing I liked …
While there is a happy-ever-after ending (this is a romance. There has to be a happy-ever-after ending), the ending isn't all roses and pink unicorns. Relationships are messy, and can't always be tidied up nicely to fit a 80,000 word novel (or however long this is).
Blue Ridge Sunrise is the beginning of a series, so I'll be looking forward to seeing some of those relationships develop and improve in future novels. As an aside, while it's the beginning of a series, it's the same setting as Denise Hunter's last book, Sweetbriar Cottage, and there are a couple of references.
Overall, recommended for those who enjoy Christian romance with a faith focus, and plenty of suspense.
Thanks to Thomas Nelson and NetGalley for providing a free ebook for review.
About Honeysuckle Dreams
(Book Two in the Blue Ridge Romance series)
After Brady Collins' ex-wife dies, he receives devastating news—his nine-month-old son Sam isn't his son at all. And Sam's wealthy maternal grandparents want custody of the child. Brady knows he's in for the fight of his life. But regardless of what any blood test says, Sam is his son, and Brady will go to any lengths to keep him.
Brady's attorney tips him off that one major life change would virtually assure him of winning guardianship of baby Sam at the final hearing: an impending marriage. And his friend Hope is willing to step in as the loving and devoted fiance.
Local radio celebrity Hope Daniels has been driven by a solitary goal her entire life, and after a happy accident she's finally offered her dream job. But if the truth comes out about her arrangement with Brady, she may miss the chance of a lifetime and stand in the way of a dear friend's dreams.
As Brady and Hope make sacrifices to help each other in their times of need, they risk uncovering a truth neither of them expects to find.
Okay. That sounds like another must-read! Have you read Blue Ridge Sunrise or Honeysuckle Dreams? What did you think?
About Denise Hunter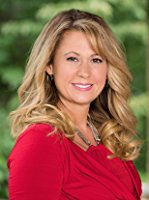 Denise Hunter is the internationally published bestselling author of more than 30 books, including "The Convenient Groom" and "A December Bride" which have been made into Hallmark movies. She has appeared on the The 700 club and won awards such as The Holt Medallion Award, The Carol Award, The Reader's Choice Award, The Foreword Book of the Year Award, and is a RITA finalist.
Denise writes heartwarming, small-town love stories. Her readers enjoy the vicarious thrill of falling in love and the promise of a happily-ever-after sigh as they savor the final pages of her books.
In 1996, inspired by the death of her grandfather, Denise began her first book, writing while her children napped. Two years later it was published, and she's been writing ever since. Her husband says he inspires all her romantic stories, but Denise insists a good imagination helps too!
When Denise isn't orchestrating love lives on the written page, she enjoys traveling with her family, drinking good coffee, and playing drums. Denise makes her home in Indiana where she and her husband raised three boys and are currently enjoying an empty nest.
Find Denise Hunter online at: