It's First Line Friday, which means it's time to open the book nearest you and share the first line. Today I'm sharing from That's Amore by Marion Ueckermann. It's the first book in the multi-author Tuscan Legacy series, and a new book releases each week. Yay!
Here's the first line: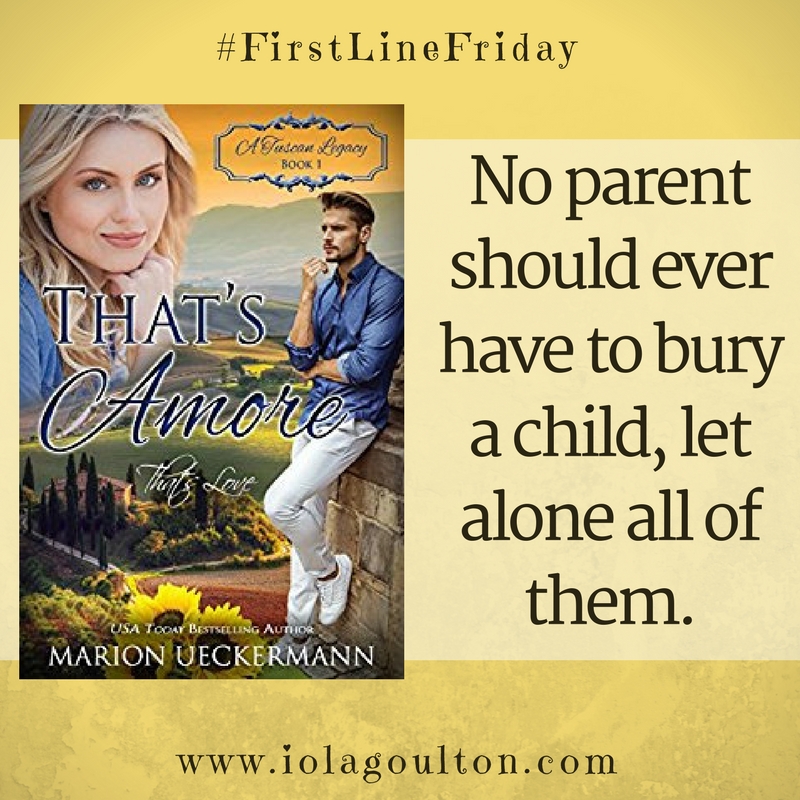 That's a one-two punch of a first line!
About That's Amore:
When Rafaele and Jayne meet again two years after dancing the night away together in Tuscany, is it a matter of fate or of faith?
After deciding to take a six-month sabbatical, Italian lawyer Rafaele Rossi moves from Florence to Tuscany, resigned to managing the family farm for his aging nonna after his father's passing. Convinced a family get-together is what Nonna needs to lift her spirits, he plans an eightieth birthday party for her, making sure his siblings and cousins attend.
The Keswick jewelry store where Jayne Austin has worked for seven years closes its doors. Jayne takes her generous severance pay and heads off to Italy—Tuscany to be precise. Choosing to leave her fate in God's hands, she prays she'll miraculously bump into the handsome best man she'd danced the night away with at a friend's Tuscan wedding two years ago. She hasn't been able to forget those smoldering brown eyes and that rich Italian accent.
Jayne's prayers are answered swiftly and in the most unexpected way. Before she knows what's happening, she's a guest not only at Isabella Rossi's birthday party, but at Villa Rossi too.
When Rafaele receives what appears to be a valuable painting from an unknown benefactor, he's reminded that he doesn't want to lose Jayne again. After what he's done to drive her from the villa, though, what kind of a commitment will it take for her to stay?
You can find That's Amore online at:
Click the button to check out what my fabulous fellow FirstLineFriday bloggers are sharing today:
You can then click the link which will take you to the master page of all this week's #FirstLineFriday posts.
And you can click here to check out my previous FirstLineFriday posts.
Share your first line in the comments, and happy reading!