It's Throwback Thursday! Today I'm sharing my review of Beneath Copper Falls, another nailbiting romantic suspense novel from Colleen Coble. This review was first published at Suspense Sisters Reviews.
A woman is murdered—drowned—in the Prologue. Another woman is almost drowned in the first chapter. Is that creepy or what?
Dana, the almost-victim, escapes from her fiance and returns home to Rock Harbor.
She knows Garrett might track her home, but figures she'll be surrounded by friends, and he'll stick out in the small town. He's determined to get her back—and she's just as determined to stay away from him, to stay safe.
She has decided she doesn't need a man to take care of her, but then she meets Boone Carter. That's a first meeting that doesn't go well! But they reconcile, and … but that would be telling. Suffice to say this is romantic suspense, and although the emphasis is largely on the suspense, there is still enough romance to keep romance lovers happy.
This was a great story, full of suspense and misdirection.
I thought I'd figured out the identity of the murderer, then something happened which meant I had to be wrong (and I was). We also saw more of the evildoer's MO as the story progressed, and this just ramped up the tension as we saw him working to ensnare his next victim—another Rock Harbor woman.
At this point I hadn't guessed the evildoer's true identity, but that didn't stop me yelling at the character to get away from the creep. I did eventually work out the real murderer (long before Dana, Bree and co worked it out), but that only added to the suspense. He's behind you! Get out now!
This is the sixth novel in Colleen Coble's Rock Harbor series. I think I've read one or two of the previous novels—Bree rang a bell, but that was all. It didn't matter. Beneath Copper Falls can easily be read without having read the previous books. I'm sure fans of the series will be thrilled to read a new installment.
Recommended for thriller fans. Best read the day before your manicure appointment, not the day after.
Thanks to Thomas Nelson and NetGalley for providing a free ebook for review.
About Colleen Coble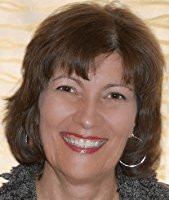 Best-selling author Colleen Coble's novels have won or finaled in awards ranging from the Best Books of Indiana, the ACFW Carol Award, the Romance Writers of America RITA, the Holt Medallion, the Daphne du Maurier, National Readers' Choice, and the Booksellers Best. She has over 2 million books in print and writes romantic mysteries because she loves to see justice prevail. Colleen is CEO of American Christian Fiction Writers. She lives with her husband Dave in Indiana.
Find Colleen Coble online at:
About Beneath Copper Falls
Dana has already learned that love isn't safe . . . but could it be different in Rock Harbor?
As a 911 dispatcher, Dana Newell takes pride in being calm in tough circumstances. In addition to her emotionally-charged career, she's faced enough emergencies in her own life. She recently escaped her abusive fiancé to move to tranquil Rock Harbor where she hopes life will be more peaceful.
But the idyllic town hides more danger and secrets than it first appeared. Dana is continually drawn to her new friend Boone, who has scars inside and out. Then she answers a call at her job only to hear a friend's desperate screams on the other end. Soon the pain in her past collides with the mysteries of her new home—and threatens to keep her from the future she's always wanted.
Find Beneath Copper Falls online at:
Amazon | ChristianBook | Goodreads | Koorong
Read the introduction to Beneath Copper Falls below: