I really enjoyed Tell Her No Lies, Kelly Irvin's first foray out of Amish into romantic suspense.
Over the Line? Not so much. The writing was excellent. There was an action-filled plot with plenty of suspense. There were two romances (although I was more interested in the secondary romance than the primary romance).
One of my problems was the sheer number of characters. There were a lot, and I found that confusing at times. But my main problem was the political focus. I don't mind Christian fiction that debates current issues, but I want Christian fiction to focus on universal issues, not US-centric issues like gun control. It's a deeply divisive political football, and I see nothing in the debate (from either side) that brings people closer to God—surely the purpose of Christian fiction.
But let's get back to the actual story and the actual characters.
It was apparent early on that Gabriella and Eli had broken up because Gabriella thought she'd caught Eli being unfaithful. It was equally apparent that this is one of those conflicts that could have been solved in half a paragraph if Gabriella had been adult enough to listen to Eli's explanation. In this, she behaved more like a rebellious Amish teenager than successful attorney-turned-chef.
Perhaps that's what made the conflict so annoying: as an attorney, Gabriella was trained to consider both sides of an argument. Yet she didn't.
Eli wasn't any better. He was an odd mix of get-in-there-and-shoot-the-baddies and too-scared-to-confront-his-girlfriend. It was as though he was simply there to be Gabriella's love interest … That's why I found the secondary romance more interesting.
On the other hand, Natalie and Deacon were excellent characters. I would have liked to have seen more of them and to see their developing relationship. It has challenges, to be sure (as Natalie is a widowed paraplegic with two children), but I'd like to see how a couple overcomes those challenges.
I found the actual suspense side of the plot confusing, and I found it hard to divorce the plot from the wider politics of the situation. That affected my enjoyment. However, I'm sure Americans who live in border states will have a different view.
Thanks to Thomas Nelson and NetGalley for providing a free ebook for review.
About Kelly Irvin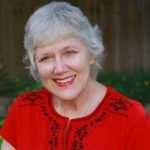 Kelly Irvin is the bestselling author of the Every Amish Season and Amish of Bee County series. The Beekeeper's Son received a starred review from Publisher's Weekly, who called it a "beautifully woven masterpiece." The two-time Carol Award finalist is a  former newspaper reporter and retired public relations professional. Kelly lives in Texas with her husband, photographer Tim Irvin. They have two children, two grandchildren, and two cats. In her spare time, she likes to read books by her favorite authors.
Find Kelly Irvin online at:
Website | Facebook | Pinterest | Twitter
About Over the Line
"You have something we want. We have something you want."
Gabriella has never forgiven her former fiancé, homicide detective Eli Cavazos, for breaking her heart. Then a man she's never met shows up at her restaurant, a bullet in his chest and her brother's name on his lips. Gabby soon realizes this man is connected to a powerful ring of criminals who know far too much about her.
Against her better judgment, Gabby turns to Eli for help in finding her brother. When she receives a cryptic text from her brother's cell phone, she realizes she is in deep and may be dragging Eli down with her. With her brother nowhere to be found and pain from her past threatening to overwhelm her, Gabby wonders how she will make it through this unexpected quest unscathed—or alive.
Taking us into the heat of Laredo, Texas, the secrets of a gun-smuggling ring, and the tensions on both sides of the border, Over the Line will keep you guessing until the last page.
Find Over the Line online at:
Amazon | ChristianBook | Goodreads | Kobo
| Koorong