Kiera is fourteen, the independent and sassy middle child of three girls. But her older sister, perfect Hannah, died six months ago and it was Kiera's fault. But Kiera reconsiders when she finds Hannah's diary, and realizes Hannah wasn't the paragon of perfection. Hannah had secrets …
On the outside, Kiera's family look like the typical middle-class family, even if they are still grieving for a dead daughter and sister. But we see inside Kiera's family, and it's a long way from perfect.
Dysfunctional doesn't even begin to describe it.
The story is told in first person from Kiera's point of view, and in third person from her mother's point of view. Kiera is a sympathetic character. She's a somewhat rebellious and sassy teen (somewhat = the kind who gets herself a summer job and doesn't secretly drink or do drugs). Like many teens, she feels isolated, as though no one understands her. Especially not her mother.
It's hard to like Moira.
I'm the mother of teens, but still found myself siding with Kiera and wanting to give Moira a good talking to. Yes, she was grieving. But she was still the parent, and that means she has responsibilities. Like acting like a parent, not a stroppy teen.
The writing is occasionally shaky—I found the first person passages easier to read and more compelling than the third person passages. I'm not sure if that's because the writing was stronger, or because I didn't like Moira. I did wonder what Moira's story was. Did we need to see her point of view, or was Kiera's enough? Will teen readers care about Moira's point of view, or will they find her even more annoying than I did?
In some ways, it doesn't matter. Gone Too Soon is a strong YA story of blame and grief and recovery, and about how our bad decisions can make life so much worse … but also a story about how allowing God into our lives can bring us peace. No matter what.
Recommended for YA readers.
Thanks to Whitefire Publishing for providing a free ebook for review.
About Melody Carlson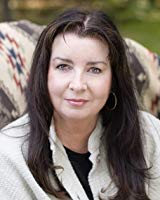 Melody Carlson has written more than 200 books (with sales around 6.5 million) for teens, women and children. That's a lot of books, but mostly she considers herself a "storyteller." Her novels range from serious issues like schizophrenia (Finding Alice) to lighter topics like house-flipping (A Mile in My Flip-Flops) but most of the inspiration behind her fiction comes right out of real life. Her young adult novels (Diary of a Teenage Girl, TrueColors etc.) appeal to teenage girls around the world. Her annual Christmas novellas become more popular each year.
She's won a number of awards (including Romantic Time's Career Achievement Award, the Rita and the Gold Medallion) and some of her books have been optioned for film/TV. Carlson has two grown sons and makes her home in the Pacific Northwest with her husband and yellow Lab dog.
Find Melody Carlson online at:
About Gone Too Soon
An icy road. A car crash.
A family changed forever.
Hannah Josephson had always been the "perfect" daughter. Kiera couldn't live up to her before, and she certainly can't now that her older sister has died in a car accident. But the image she carried resentfully of Hannah is challenged when she finds her dead sister's diary and begins to read. Apparently Hannah's final year wasn't as perfect as everyone thought.
Caught in a pattern of blaming each other, the Josephson family is falling apart. Their father has left, their mother is mixing opiates and alcohol, little sister Maddie has been shipped off to spend the whole summer with their grandmother, and Kiera feels utterly alone with her grief and anger. A summer job helping at a park in a poor section of town provides a friend and a purpose.
But it's Hannah's diary that fills her thoughts. For the first time in years, she feels close to the sister she's lost. But can the knowledge she gleans about her possibly help her patch back together the family that seems determined to implode?
Find Gone Too Soon online at:
Amazon US | Amazon AU | Goodreads