It's First Line Friday! That means it's time to pick up the nearest book and quote the first line. Today I'm sharing from Courting Mr Emerson by Melody Carlson: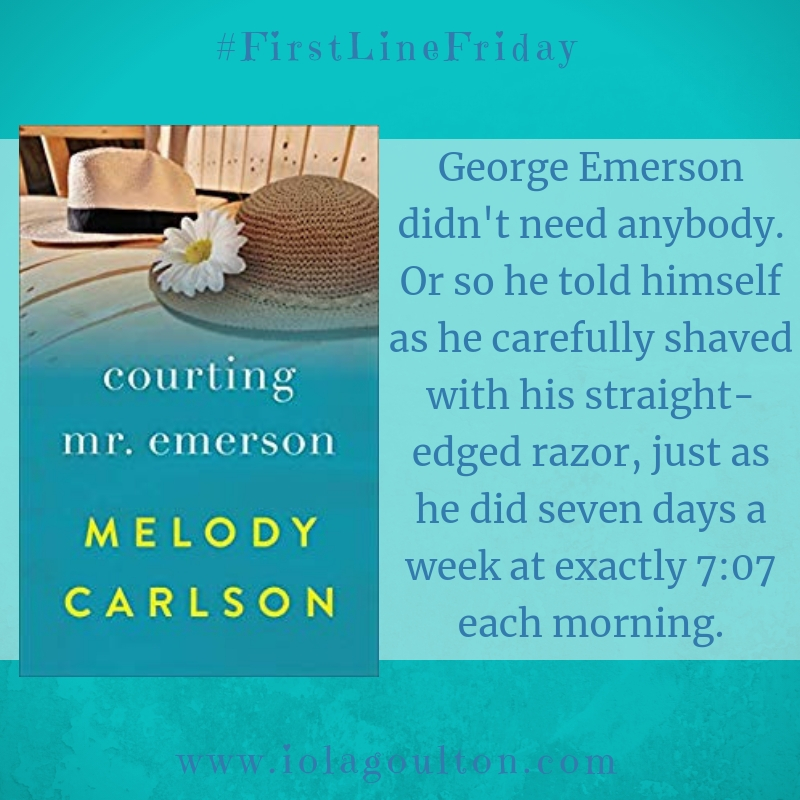 Yes, I know that's two lines. But the second line is so good! How could I leave it out?
Most romance novels are about couples in their twenties or early thirties, so I'm intrigued by the idea of a romance novel with an older couple. Have you read Courting Mr Emerson? What did you think?
What's the book nearest you, and what's the first line?
About Courting Mr Emerson
When the fun-loving and spontaneous artist Willow West meets buttoned-up, retired English teacher George Emerson, it's not exactly love at first sight. Though she does find the obsessive-compulsive man intriguing. Making it her mission to get him to loosen up and embrace life, she embarks on what seems like a lost cause–and finds herself falling for him in the process.
A confirmed bachelor, George vacillates between irritation and attraction whenever Willow is around–which to him seems like all too often. He's not interested in expanding his horizons or making new friends; it just hurts too much when you lose them.
But as the summer progresses, George feels his defenses crumbling. The question is, will his change of heart be too late for Willow?
You can find Courting Mr Emerson online at:
Amazon US | Amazon AU | ChristianBook | Goodreads | Koorong
Click the button to check out what my fabulous fellow FirstLineFriday bloggers are sharing today:
You can then click the link which will take you to the master page of all this week's #FirstLineFriday posts.
And you can click here to check out my previous FirstLineFriday posts.
Share your first line in the comments, and happy reading!