It's Throwback Thursday! Today I'm reviewing Step by Step by Candace Calvert, who I was lucky enough to meet when she visited New Zealand last year. Step by Step is the second book in her Crisis Team series.
I started out really enjoying Step by Step, but then had that awkward moment around a third of the way through when I realised it was supposed to be romantic suspense … but there wasn't a lot of suspense.
I needn't have worried. While Step by Step wasn't a heart-stopping thriller like those by Brandilyn Collins or Terri Blackstock, or a puzzling mystery like Julianna Deering, it certainly ended up with more than enough suspense, from several angles.
There was the medical suspense of the setting in an ER room. There was the romantic suspense, of whether Taylor was ever going to realise Dr Perfect wasn't (and therefore see that Seth was). And there was the underlying suspense: who is Sloane? Why does she have a problem with both Taylor and Seth? Who is chasing her? And how does this connect to Taylor? Or Seth?
So, yes, great plot. And great characters. Especially the animals. And excellent writing, with enough humour to break up the tension when needed—I especially liked lines like "Cross my heart, hope to pass a cholesterol test". Recommended for medical suspense fans (or anyone who doesn't mind a bit of blood and medical trauma in their fiction).
Thanks to Tyndale House Publishers and NetGalley for providing a free ebook for review.
About Step by Step
Three years after a tragic accident left her a widow, ER nurse Taylor Cabot is determined to move on, checking off one item after another on her survival list. Her relationship with a handsome plastic surgeon even gives her hope for the last point―"fall in love again." At least until crisis chaplain Seth Donovan steps back into her life, reawakening unanswered questions about her husband's death.
While in San Diego to train community volunteers, Seth hopes to learn why Taylor is backing away from the crisis team and from their friendship. But nothing prepares him for the feelings that arise when he sees Taylor again . . . and sees her moving on with another man.
When a community crisis hits home and puts lives at risk, emotions run high and buried truths are unearthed. Will hope make the survival list?
You can find Step by Step online at:
Amazon | ChristianBook | Goodreads | Koorong
About Candace Calvert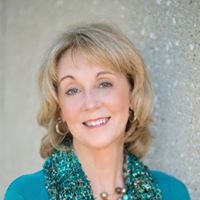 Often called the author of "medical hope opera," Candace Calvert is an ER nurse who landed on the other side of the stethoscope after the equestrian accident that broke her neck and convinced her love, laughter–and faith–are the very best medicines of all.
Her popular medical drama series (Mercy Hospital, Grace Medical and Crisis Team) offer readers a chance to "scrub in" on the exciting world of emergency medicine, along with charismatic characters, pulse-pounding action, tender romance, humor, suspense–and an encouraging prescription for hope. Think "Grey's Anatomy finds its soul"!
A native northern Californian, mother of two and proud grandmother to eight, Candace is a passionate "foodie," equally at home with a whisk in her hand as she is penning stories
You can find Candace Calvert online at:
And you can read the introduction to Step by Step below: