Hattie Walker doesn't want to get married.
She wants to be an artist, Her parents have given her two months to prove herself and get a painting in a reputable Denver exhibition, so she's travelling to Colorado to try and make her mark in the art world. Otherwise, it's go home to Van Buren, Arkansas, and plan for her future. A stagecoach shootout leaves Hattie as the only survivor … and therefore the only eyewitness to murder. But that's nothing compared to being kidnapped by Indians for who knows what nefarious purpose.
Lieutenant Jack Hennessey has never been interested in marriage.
The only girl he was ever interested in never showed the slightest sign of liking him. But now he's rescuing the survivor of a stagecoach robbery, and it turns out to be his childhood sweetheart. Anxious to impress, he asks the village Chief to arrange a ceremony … and ends up married.
Oops. Not quite the impression he wanted to make.
It's a great set-up: a marriage that's neither mail order bride nor marriage of convenience, but marriage all the same. And between two people who know and like each other, although that doesn't mean they actually want to be married. It makes for a fun story, with a lot of great scenes as the two get to know each other and consider their options.
Parts of the novel show the hopefully well-meaning but almost certainly misguided colonialism, with the attempts to integrate the local Indian tribes into the white man's world (and isn't that phrase telling: the white man's world. Not the white world. That's still a distinction we're all fighting for). Some Native American readers may say this history is sanitised and sugar-coated, and they'd probably be right.
However, this novel is intended as light entertainment, not a serious treatise on the faults of colonialism (of which there are many). On that level, it works.
The Lieutenant's Bargain is the second book in the Fort Reno series, but can easily be read as a standalone novel. Recommended for fans of Christian Western historical romance … especially those who like a little humour in their romance.
Thanks to Baker Books and NetGalley for providing a free ebook for review.
About Regina Jennings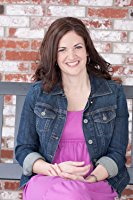 Regina Jennings is the winner of the National Reader's Choice Award, a two-time Golden Quill finalist and a finalist for the Oklahoma Book of the Year Award. A graduate of Oklahoma Baptist University with a degree in English and a minor in history, Regina has worked at the Mustang News and at First Baptist Church of Mustang, along with time at the Oklahoma National Stockyards and various livestock shows. She lives outside of Oklahoma City with her husband and four children when not traveling the world.
Find Regina Jennings online at:
Website | Facebook | Pinterest | Twitter
About The Lieutenant's Bargain
Hattie Walker dreams of becoming a painter, while her parents want her to settle down. As a compromise, they give her two months to head to Denver and place her works in an exhibition or give up the dream forever. Her journey is derailed when a gunman attacks her stagecoach, leaving her to be rescued by a group of Arapaho . . . but she's too terrified to recognize them as friendly.
Confirmed bachelor Lieutenant Jack Hennessey has long worked with the tribe and is tasked with trying to convince them that the mission school at Fort Reno can help their children. When a message arrives about a recovered survivor, Jack heads out to take her home–and plead his case once more.
He's stunned to run into Hattie Walker, the girl who shattered his heart–but quickly realizes he has a chance to impress her. When his plan gets tangled through translation, Jack and Hattie end up in a mess that puts her dreams in peril–and tests Jack's resolve to remain single.
Find The Lieutenant's Bargain online at:
Amazon US | Amazon AU | ChristianBook | Goodreads | Koorong
Read the introduction to The Lieutenant's Bargain below: