Lovely Lola Bell was raised in a saloon, but her singing voice has meant she's managed to keep from working upstairs. Except now she's been fired, and no one in town is going to give a saloon girl a respectable job. Then she hears her brother—her only family—is in trouble. She has no choice but to become Miss Louisa Bell, find Bradley at Fort Reno, find a respectable job, and hope her past never catches up with her.
Major Daniel Adams is a widower with two daughters. When Miss Louisa Bell arrives at the Fort to teach his daughters, he's so grateful he doesn't bother to check her details. The girls like her, and anything to keep them out of trouble in a fort filled with soldiers and surrounded by potentally hostile Indians …
In some ways, Holding the Fort was a typical Western romance. Beautiful heroine meets handsome hero, fall in love, and so on.
But that would be missing the best parts: the comedy, and the Christian element.
Regina Jennings writes comedy. Well, this had a lot of comedy—awkwardly comedic situations, similar to Karen Witemeyer or Jen Turano. There can be a fine line between comedy and cringefest, but I definitely found Holding the Fort was comedy (especially a couple of the riding scenes).
It was also Christian. Lola aka Louisa was not a Christian. She'd been raised in a saloon, hardly the kind of place you'd find a preacher. She does a so-so job of pretending, but when it comes out that she's not a Christian, Daniel has a dilemma. He's attracted to her, but … Anyway, that ended up being one of the strengths for me.
Overall, I loved Holding the Fort. Recommended for fans of romantic comedy, especially historical Westerns.
Thanks to Bethany House and NetGalley for providing a free ebook for review.
About Regina Jennings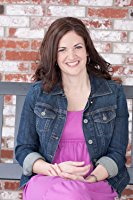 Regina Jennings is the winner of the National Reader's Choice Award, a two-time Golden Quill finalist and a finalist for the Oklahoma Book of the Year Award. A graduate of Oklahoma Baptist University with a degree in English and a minor in history, Regina has worked at the Mustang News and at First Baptist Church of Mustang, along with time at the Oklahoma National Stockyards and various livestock shows. She lives outside of Oklahoma City with her husband and four children when not traveling the world.
Find Regina Jennings online at:
Website | Facebook | Pinterest | Twitter
About Holding the Fort
Louisa Bell never wanted to be a dance-hall singer, but dire circumstances force her hand. With a little help from her brother in the cavalry, she's able to make ends meet, but lately he's run afoul of his commanding officer, so she undertakes a visit to straighten him out.
Major Daniel Adams has his hands full at Fort Reno. He can barely control his rowdy troops, much less his two adolescent daughters. If Daniel doesn't find someone respectable to guide his children, his mother-in-law insists she'll take them.
When Louisa arrives with some reading materials, she's mistaken for the governess who never appeared. Major Adams is skeptical. She bears little resemblance to his idea of a governess–they're not supposed to be so blamed pretty–but he's left without recourse. His mother-in-law must be satisfied, which leaves him turning a blind eye to his unconventional governess's methods. Louisa's never faced so important a performance. Can she keep her act together long enough?
Find Holding the Fort online at:
Amazon | ChristianBook | Goodreads | Koorong
Read the introduction to Holding the Fort below: