It's Throwback Thursday! Today I'm resharing one of my favourite not-romance reads from 2018, No Less Days by Amanda G Stevens.
While I enjoy reading romance, when it comes to watching, my favourite TV shows and movies tend to be science fiction of some form: Star Wars. Star Trek. Stargate. Fringe. Forever. (Chuck.)
I'd categorise No Less Days as Forever with a dash of Highlander. It's part science fiction and part urban fantasy.
About No Less Days
David Galloway can't die.
How many lifetimes can God expect one man to live? Over a century old, David Galloway isolates himself from the mortal humans who die or desert him by making a quiet life as a used bookstore owner in Northern Michigan. But then he spots a news article about a man who, like him, should be dead.
Daredevil celebrity Zachary Wilson walked away unscathed from what should have been a deadly fall. David tracks the man down, needing answers. Soon David discovers a close-knit group of individuals as old as he is who offer the sort of kinship and community he hasn't experienced for decades—but at what cost?
David finds himself keeping secrets other than his own. . .protecting more than himself alone. He'll have to decide what's worth the most to him—security or community. When crimes come to light that are older than any mortal, he fears the pressure is more than he can stand. What does God require of him, and is David strong enough to see it through?
My Thoughts
No Less Days is not contemporary romance, although it does have a minor romance subplot. I suspect most novels could be improved with the addition of a minor romance subplot …
David Galloway is 167 years old, but looks thirty-five, thanks to a doctor who saved his life over 130 years ago. He's survived five major wars, and now makes a living selling second-hand and antique books. He thinks he's the only one of his kind until he sees a news story about a daredevil who falls to his death crossing the Grand Canyon, yet miraculously survives.
David is curious. There is no way this daredevil, Zachary Wilson, could have survived that fall. Is there someone else like David? He goes to Nevada to find out the truth, and finds something unexpected: he is not alone.
Like I said, No Less Days isn't the usual book I review.
But if there were more Christian novels like this, I'd read and review them because No Less Days was excellent. A unique hook: the man who lives forever. Great characters: David, Zac, Tiana. A moral dilemma to work through. And lots of amusing insights from a man who has lived longer than he should.
The story of No Less Days is told entirely from David's viewpoint, and that's one of the strengths. Learning things about the Longevites as David learns them gives the sense of being in the story. The writing is excellent, and while this story comes to a complete and satisfying end, there is certainly scope to turn No Less Days into a series.
I recommend No Less Days for fans of TV shows like Fringe and forever who'd love to see more Christian fiction delve into these areas of the unknown.
Thanks to Barbour Publishing for providing a free book for review.
About Amanda G Stevens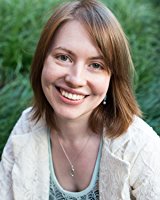 As a child, Amanda G. Stevens disparaged Mary Poppins and Stuart Little because they could never happen. Now, she writes speculative fiction. She is the author of the Haven Seekers series, and her debut Seek and Hide was a 2015 INSPY Award finalist. She lives in Michigan and loves trade paperbacks, folk music, the Golden Era of Hollywood, and white cheddar popcorn.
You can find Amanda G Stevens online at:
You can find No Less Days online at:
Amazon | ChristianBook | Goodreads | Koorong
You can read the introduction to No Less Days below: