Fort Point is the second book in the Maine Justice series.
I described Priority Unit, the first book in the series, as an almost-perfect blend of Christian fiction, romance, and suspense. Fort Point has a different feel.
We've already seen Detective Harvey Larson and Jennifer Wainthrop fall in love and become Christians in Priority Unit. Fort Point (and, I assume, the later books in the series) are more suspense. The romance and the faith aspects are still there, but they definitely take second place to the suspense plot.
And the suspense is excellent.
Fort Point is a police procedural mystery that begins with the discovery of the body of Maine's most famous novelist. (Personally, I've read enough novels about people who write novels. Perhaps Davis has as well, given her novelist is the victim.)
Detective Larson is part of Maine's Priority Unit, a special force, so is tasked with investigating the murder. But it's not easy. The victim wasn't just a novelist. He was also an investigative journalist, and Larson wonders if one of his investigations may have attracted attention from the wrong people. Soon a second body is discovered, and evidence that suggests corruption in high places …
I didn't think the writing was as strong in Fort Point (although that could just be that it's been about a year since I read Priority Unit, and I was so impressed by the three strands of the plot that I didn't pay much attention to the writing). It wasn't that the writing is poor. It's more that it felt a little unpolished in comparison with Davis's other books.
Overall, Fort Point is a solid suspense novel.
But does have a different flavour than Priority Unit and Susan Page Davis's earlier romantic suspense novels. If you're looking for a lightweight romantic suspense novel, Fort Point isn't what you're looking for. But if you're looking for a well-plotted police procedural suspense with plenty of twists and strong characters, Fort Point might be just what you are looking for.
Thanks to the author for providing a free ebook for review.
About Susan Page Davis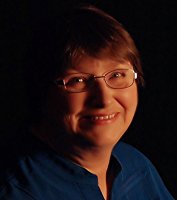 Susan Page Davis writes romantic suspense, historical romance, and mystery. She is a Maine native now living in Kentucky, and a member of the American Christian Fiction Writers and KenTen Writers. Her books have won several awards including the Carol Award for her novel The Prisoners Wife; the Inspirational Readers' Choice Award for The Prisoner's Wife and The Lumberjack's Lady (Maine Brides series); and the Will Rogers Medallion Award for her novels Captive Trail (Texas Trails series, 2012) and The Outlaw Takes a Bride (2016).
You can find Susan Page Davis online at:
Website | Facebook | Google+ | Twitter
About Fort Point
An ill-fated class reunion at Fort Point. . .
Maine's most famous author is murdered the night after the reunion. A classmate turns up dead a few days later, apparently drowned at Fort Point. What does a cold case burglary have to do with the deaths? And did a third classmate really commit suicide?
The Priority Unit solves its most challenging case, relying on wits, hard work, and faith. Meanwhile, Jennifer Wainthrop plans her wedding but manages to hand the detectives some important clues.
Detective Harvey Larson is offered a job he doesn't want, until he learns the police chief has had a tragic accident. Captain Mike Browning is on vacation in Maine's far north, and proves a difficult man to track down. Harvey and Jennifer continue their faith journey and romance while untangling the evidence.
Despite many obstacles, the Priority Unit is once again serving up Maine Justice.
You can find Fort Point online at:
Amazon | ChristianBook | Goodreads
You can read the introduction to Fort Point below: