It's Throwback Thursday, and today I'm sharing my review of The Priority Unit by Susan Page Davis. This review first appeared at the now-defunct Suspense Sisters Reviews, and I'm delighted to be able to share it again. I love Susan Page Davis's romantic suspense novels. She was one of the first authors I read in the genre, and is one of the big reasons I'm such a fan.
My Review
Jennifer Wainthrop meets Detective Harvey Larson when he visits her workplace to investigate the disappearance of one of her colleagues, and he asks her out.
I'm not always a fan of romances where there is a big age gap between the hero and heroine.  I've always found Jane Austen's Mr Knightley a little creepy, and even as a child I could see the potential for problems in the marriage between Prince Charles and Lady Diana. I think The Priority Unit dealt with the sixteen-year age gap well. This was helped by the fact Harvey Larson was a man of principle and honour, and I could see what Jennifer saw in him.
Equally, while Jennifer was young, she had a maturity and professionalism that belied her age. And she was an outstanding computer programmer (in a world full of too-stupid-to-live heroines, I'm always impressed by a heroine (or hero) with intelligence, competence, and professionalism.
The suspense thread was well balanced against the romance.
The novel was perhaps more focused on the relationship rather than the suspense. The suspense is there, but it's somewhat low key—without a body it's hard to know whether a crime has been committed, let alone solve it. Although the missing computer programmer isn't Harvey's only problem. Someone seems to have a target on his back…
What impressed me the most was the overt Christian aspect of the novel.
Neither Harvey nor Jennifer were Christians at the beginning, yet they both commit to making an honest search to see if God is real—a search they commence together. This brings them closer together at the same time as having the potential to drive them apart—what if only one chooses to believe?
Susan Page Davis is the author of Frasier Island, one of my all-time favourite romantic suspense novels. Okay, so there are elements of both novels which stretch the bounds of credibility if you think about them too much, but the characters and story are so strong it doesn't matter.
Overall, The Priority Unit was a Christian Romantic Suspense novel which actually managed to give all three aspects equal weight—it was overtly Christian, with a building romance, and an ongoing suspense thread. An excellent novel which is especially praiseworthy for the overt Christian aspect. Even better, it's the first in a series!
Recommended.
About Susan Page Davis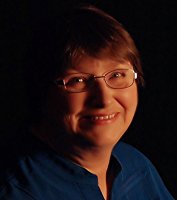 Susan Page Davis writes romantic suspense, historical romance, and mystery. She is a Maine native now living in Kentucky, and a member of the American Christian Fiction Writers and KenTen Writers. Her books have won several awards including the Carol Award for her novel The Prisoners Wife; the Inspirational Readers' Choice Award for The Prisoner's Wife and The Lumberjack's Lady (Maine Brides series); and the Will Rogers Medallion Award for her novels Captive Trail (Texas Trails series, 2012) and The Outlaw Takes a Bride (2016).
You can find Susan Page Davis online at:
Website | Facebook | Google+ | Twitter
About The Priority Unit
A missing man.

A mysterious computer program –

Even the people constructing it don't know what it will do.
On the worst night of Harvey Larson's life, his partner is killed and his wife, Carrie, walks out on him. Ten years later, the Portland, Maine police detective has learned to cope with his grief and depression. When he and the Priority Unit investigate the disappearance of software designer Nick Dunham, he meets a young woman who will change his life. Jennifer Wainthrop was the last person to admit seeing Dunham alive.
Harvey and his partner, Eddie Thibodeau, stay a step ahead of a bomber and put together the clues that tell the truth: Dunham's kidnapping and the bombings are one case, and Jennifer is caught in the middle. News that Carrie has committed suicide may plunge Harvey back into despair. Harvey turns to God for help untangling his complicated life. He finds strength in his faith as he attempts to save Jennifer from the same grim fate that claimed Nick. But Jennifer must depend on her own wits and God alone when the killer gets too close.
You can find The Priority Unit online at:
You can read the introduction to The Priority Unit below: